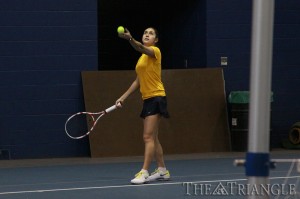 Tennis is an intensely individual sport. Players need to have a special mindset and focus to be the only person out on the court defending the 39-by-27-foot box on their side of the net. Groomed as singles players from the time they first pick up a racket, tennis players who throw a second player on each side break the mold that they learned to create and maintain during competition. Now there is a certain level of chemistry that must be reached to be successful, which is easier said than done in most cases.
For Drexel junior Nicole Pivonka and freshman Fiorella Coria, the chemistry has come naturally, and it has shown in their recent success. Last weekend, in their first tournament paired together as doubles partners, Pivonka and Coria won the Flight 2 doubles title at the Saint Joseph's Invitational over a duo from the host university by a score of 8-5.
"We came together as a team a little better than the previous weekend because we knew each other a little better," Pivonka said. "With doubles, I was able to get a better connection with my partner, we were able to pull through, and we actually ended up winning."
As a freshman and sophomore, Pivonka quickly developed into a dangerous doubles player. Paired with Emma Brook in her first two seasons, the two racked up a dozen doubles victories when Pivonka was a freshman before being named a Second-Team All-Colonial Athletic Association doubles selection last year. Brook's eligibility has since run out, leaving Pivonka in search of a new doubles partner.
Enter Coria.
A left-handed player, Coria was recruited by Drexel after a successful high school career in which she was ranked in the top 100 in recruitment for United States juniors. Partnered with Pivonka in only the second tournament of her young collegiate career, the duo came out victorious.
"We're starting to learn each other's games and [be] able to communicate," Pivonka said of the natural chemistry the two have developed. "Communication is big in doubles, and we are growing on that."
Having a freshman as a partner has also allowed Pivonka to take on more of a leadership role on the court. It is a change that the Sarasota, Fla., native has welcomed with open arms so far.
"With [Coria] being a freshman, I just try to stay positive and keep her ready for the next point while not worrying about the past," Pivonka said. "She did a really good job with that, and I think that's why we work well as a team."
Although Pivonka may be the leader between the two because she is two years older than Coria, that does not mean Coria does not help boost Pivonka's game. Head coach Mehdi Rhazali has taken notice to what both players bring to the court, and he is already impressed with their results.
"They have interesting game because one sets up the other really well," Rhazali said of Pivonka and Coria. "For example, Nicole is tall; she's 5-foot-11. Having a person that tall in women's tennis standing right there at the net with a lefty serving, you have to work so hard to make that return perfect, so that's already an advantage."
Rhazali has also been impressed with Pivonka's backhand, which he called one of the biggest that he has seen in women's college tennis. With many opponents serving more comfortably with what is called a "kick serve" to the outside boundary of the serving box, Pivonka's strengths are maximized during doubles play. So far this season, she has been able to capitalize on it.
The Dragons came up empty-handed in the singles draws, however, leaving Rhazali admittedly disappointed. Pivonka fell in the Flight 1 quarterfinals to a player from the University of Delaware. Marcela Rosales made a strong run to the finals but fell to Nataliya Nauomva of the University of Delaware in straight sets following a long semifinal match.
Erin Bowsher, who has impressed Rhazali so far in her first season back after a medical redshirt sidelined her for most of last year, reached the Flight 3 quarterfinals. Alex Bell fell after three sets in the Flight 4 finals after winning her previous two matches, each in three sets.
Rounding out the team's doubles results at the Saint Joseph's Invitational were Rosales and Zeynep Mafa falling in the quarterfinals of the Flight 1 draw, Bowsher and Lea Winkler going down in the second round of the Flight 1 draw, and Bell and Amanda Tilles falling in the first round of the Flight 2 draw.
Rhazali said that the week of practice leading up to this weekend's slate of matches would continue to be tough in an effort to build physical fitness and stamina for the Intercollegiate Tennis Association Regionals at the end of October. The women will now travel to Rider University while the men face a tough test at the Lehigh Invitational.