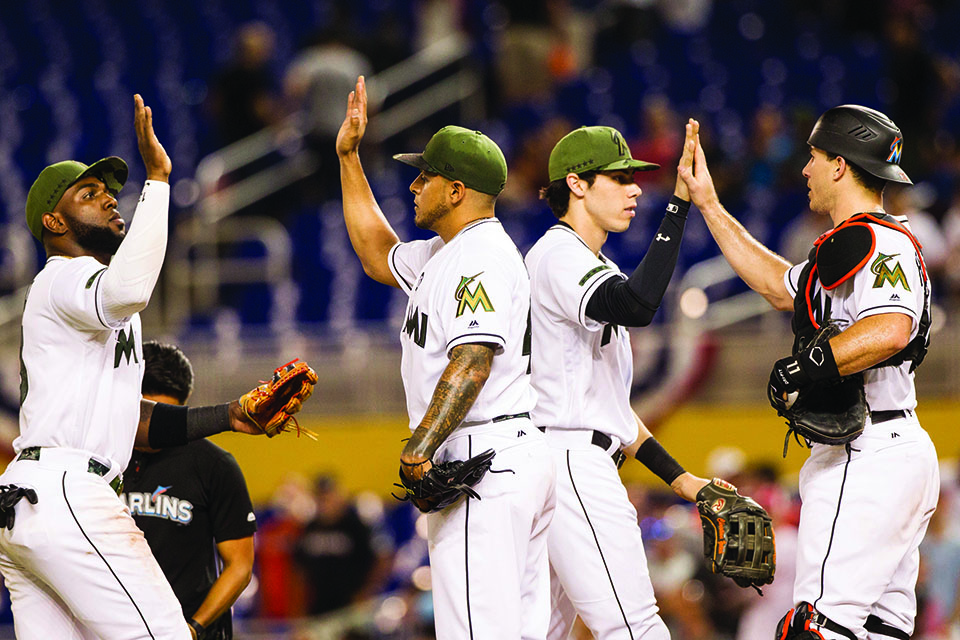 The Philadelphia Phillies have had a rough season this year. This past Memorial Day, May 29, the Phillies began a three-game series against the Miami Marlins. These two teams are at the bottom of the standings in the National League East division currently and things aren't necessarily looking up.
The Marlins took the first game as  starting pitcher Edinson Volquez only allowed the Phillies to score one run.
In the sixth inning, the Phillies scored their only run of the game on a homer to come within one run of the Marlins. Later, a single by the Marlins' J.T. Realmuto followed by a huge Derek Dietrich home run drove them both home for a three-run lead. The final score was 4-1.
The Marlins took the second game, May 30 by a final score of 7-2 to improve to 20-30 this season. The Phillies have fallen to 17-33, where they sit in the last place for the National League East standings.
This was the Marlins' third straight win. Their two star hitters, Marcell Ozuna and Giancarlo Stanton, each had their 13th and 14th home runs, respectively for this season.
Both pitchers for the teams were replaced due to injury during the game. Phillies' Vince Velasquez had an early exit in the second inning due to a right elbow flexor strain. The Marlins' Justin Nicolino left during the third inning with a left index finger injury.
The last game in the series was played May 31. The first five innings were scoreless for the Phillies as the Marlins were up eight runs at the beginning of the sixth.
The Phillies managed to bring home two runs, each at the top of the sixth and seventh innings respectively; however the Marlins continued to score.
In the end, the Marlins won 10-2. Justin Bour had two home runs, and Marcell Ozuna had one. This was the Marlins' fourth straight win to close out this series. They moved on to host the Arizona Diamondbacks starting June 1.
The Phillies will have a day off to rest before hosting the San Francisco Giants for a three game series starting this Friday, June 2 and concluding on Sunday, June 4. The Giants have concluded a three game series against the Washington Nationals and will also have a day off before traveling to Philadelphia.
Starting Monday, June 5 and concluding Thursday, June 8, the Phillies will travel to SunTrust Park in Atlanta, Georgia to play the Atlanta Braves in a four-game series looking to start a run to scrape their way out of the bottom of the league's standings.