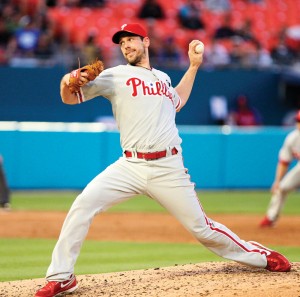 Carlos Ruiz, Roy Oswalt and Chase Utley were featured on Comcast Sportsnet May 12 playing ball — but not for the Phillies. They were playing for the Minor League team, the Clearwater Threshers.
That seems to be the story of the Phillies season so far. They have won, but there have been many injuries to deal with — and only a month and a half into the season. So far Utley, Oswalt, Ruiz, Joe Blanton and the top two closers Brad Lidge and Jose Contreras have all been on the disabled list. Blanton is the only one who is no longer on the DL, just making his first start back this past week.
Even with all of these problems, the team has the best record in the majors with a 24-12 mark going into a weekend series with the Atlanta Braves. The Phillies have had some offensive droughts and the bullpen has blown two or three games, but with the big four producing up to expectations, the team has managed to win twice as many times as they have lost.
With all the expectations put on the team this year, the fans have been really critical every time the Phillies lose a game, but viewers need to take a step back and look at all the injuries and players in the lineup who are not nearly good enough to start every day throughout the whole year.
Among the bright spots for the team is Ryan Howard, who has come out on fire this year. He leads the league with 32 RBIs and has also hit seven home runs along with hitting up near .280.  The other bright spot is Placido Polanco, who set a team record with 41 hits in the month of April, having his average at above .400 at various times through the first month.
The Phillies have gotten contributions from many of the fill-ins so far, including Vance Worley, Wilson Valdez, Pete Orr and John Mayberry, who all at one time this year gave the team the boost needed to win a game. Ryan Madson has also filled in nicely for the Phillies, saving all five of his opportunities this season, and he has not allowed a run since April 15.
As the players start to come off the DL, we will see the team continue to improve, and potentially watch the offense pick up its production. The six through nine spots in the lineup will not seem like as much of a black hole and the starters should begin to get some more run support.
So, as fans watch the Clearwater Thrashers play on Comcast Sportsnet, it will be like watching the future of this year's team prepare to be called up and contribute immediately. Though it is weird to see a minor league game be televised, it's a very important game to see how close our stars are to rejoining the team.