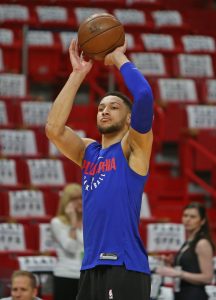 Inconsistency has been the motto for the Philadelphia 76ers thus far through the first 11 games of the season. There have been games where they look like the complete, dominant team that made a deep playoff run just one season ago. There have also been times where they look lost, and nothing like a team that is ready to contend for a championship.
There was hope this season that Markelle Fultz would play like the star that he was supposed to be when the Sixers traded up to draft him with the first pick in the 2017 National Basketball Association Draft. However, in his rookie season Fultz only appeared in 14 games due to various injuries, and struggled mightily with his jump shot. Rumors swirled about Fultz's ability to live up to his pre-draft hype. This season, Fultz has appeared in all 12 games and has started every one, but he has not had the huge impact some were expecting. Fultz is averaging 9.1 points, 3.6 assists and four rebounds. Although Fultz has been starting each week, he is yet to appear in critical parts of the game, such as the final minutes when the game is close. Head coach Brett Brown has decided to go with veteran sharpshooter J.J. Reddick, who offers a more reliable scoring presence in his second season with the team.
Still, one of the biggest highlights of this young season is Sixers budding star Joel Embiid. He has done his part to carry the Sixers through this early going, as he has been putting up MVP numbers. Embiid has averaged 27.7 points, 12.4 rebounds and two blocks per game while making highlight reel plays on a consistent basis. Through the first 10 games of the season Embiid became the fourth player — after Wilt Chamberlain, Elgin Baylor and Walt Bellamy — to put up seven 30-point, 10 rebound games. A fan favorite in Philadelphia, Embiid has continued to bring his famous trash-talk along for the ride this season as well.
In the Sixers' most recent game, the team suffered an embarrassing loss to the Brooklyn Nets, losing by 25 points. In the loss, the Sixers had an inexcusable 27 turnovers.
"We've been playing soft, We've been bulls—ing." Ben Simmons said, showing his frustrations after the game.
"The coaches don't control us making shots and they don't control us turning the ball over," Embiid continued. "That's none of their fault. At times we can all do a better job as far as controlling the game. I don't think it's none of their fault; it's on the players. We're the ones that go out there and we have a game plan, and we should just follow it and trust it."
The Sixers are looking to return to their winning ways after a 100-94 win against Victor Oladipo's Indiana Pacers Nov. 7.
Now the Sixers have a big lineup of games which includes the Charlotte Hornets Nov. 9, Memphis Grizzlies Nov. 10, Miami Heat Nov. 12 and the Orlando Magic Nov. 14.