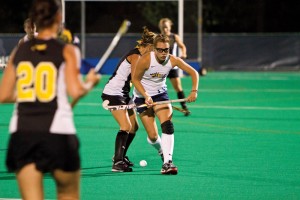 Since Drexel women's field hockey began the season with a 5-0 record, they have experienced a few bumps in the road. After two consecutive 2-1 losses to Stanford University and Lafayette College, Temple University shocked the Dragons on Sept. 16 by a score of 5-1.
Coming into the game, Temple boasted a 2-5 record and was in the midst of a three-game losing streak. But instead of rolling over for No. 15 Drexel, the Owls put a halt to their own losing streak and extended the Dragons' skid to three games.
Temple scored 1:50 into the game when freshman Alyssa Delp scored off her own rebound to take a 1-0 lead at Geasey Field in North Philadelphia. A few minutes later, Drexel had a chance of its own, but the Owls' goalkeeper, sophomore Lizzy Millen, thwarted two shots by freshman Danielle Grassi.
At the 9:12 mark, Delp scored her second goal of the game as Temple took a 2-1 lead, but Drexel junior Lindsay McArdle scored her team-leading fifth goal of the season to bring the Dragons within one.
Just before the end of the first half, Owls junior Mandi Shearer scored a goal off a corner opportunity to go up two goals on the Dragons. Minutes after halftime, Temple took a 4-1 lead on a goal by sophomore Sydney Hibshman, the first of her career.
Temple sophomore Amber Youtz, who assisted on Hibshman's goal, scored her team-leading sixth goal of the season to make it a 5-1 game. Drexel pulled its goalkeeper, sophomore Jantien Gunter, with 22 minutes remaining to put more pressure on the Owls' defense.
The Dragons were able to pelt Millen with four shots on goal in the second half, but she came up with a save on each occasion. There would be no more scoring in the game, and when the final horn sounded, Drexel had suffered a 5-1 loss.
Perhaps the loss will serve as a wake-up call for the Dragons, who open up Colonial Athletic Association conference play against James Madison University on Friday Sept. 21 at 3:30 PM. It will be Drexel's first home game since a 3-0 win over Fairfield University on Aug. 26.
The Dragons are 2-0 at home this season, including a 1-0 victory against No. 5 Duke University on Aug. 24. Since 2008, Drexel is 37-10 at home and has turned Buckley Field into a true home-field advantage.
On Sunday Sept. 23, Drexel concludes its short two-game home stand at 12:00 PM against Virginia Commonwealth University. This will be the Dragons' first game against the Rams as a non-conference opponent; VCU left the CAA to join the Atlantic 10 in May.
Drexel is 4-1 vs. the Rams since 2007, but will look to avenge a 4-2 loss suffered in Richmond, Va. last season. As for this Friday, the Dragons look to get back in the win column by extending their current two-game win streak against JMU.