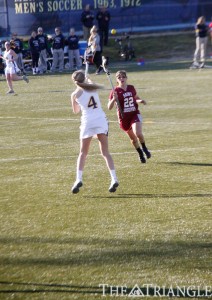 Two Drexel athletes have stood out among their peers this week and have been named Drexel University Co-Athletes of the Week.
Kelli Joran of the women's lacrosse team and Badr Ouabdelmoumen of the men's tennis team share the honor after having some impressive weeks on the field and court, respectively.
Ouabdelmoumen won two singles matches this week, one in a 4-3 team win over St. Joseph's University and the other in a 5-2 team loss against the University of Delaware. Ouabdelmoumen now has a streak of five consecutive singles wins — an extremely impressive feat as a novice on the team.
In his match at Delaware, Ouabdelmoumen dropped his first set but showed tremendous poise as he came back to take the match. Along with his exceptional play, Ouabdelmoumen's aplomb as a freshman has really impressed coaches and allowed him to solidify himself at the top of the Dragons' lineup.
Not only did Ouabdelmoumen pick up a singles point against St. Joe's, but he also won a doubles match paired with teammate Skylar Davis.
The tennis team is currently 9-6 on the season, and they have one more game against George Mason University April 13 before the Colonial Athletic Association Championships begin April 19.
Joran, a junior from Downingtown, Pa., was the standout this week on a team that is chock full of players who can really ink a stat sheet. This past week Joran had a hat trick in a 16-7 win versus George Mason and scored four goals in a tough 8-15 loss to James Madison University. Joran now has 19 goals and 22 total points on the season.
"I had more opportunities to shoot and was able to finish on most of my shots," Joran said of her scoring outburst. "I didn't do anything different than I usually do, but we got different looks from our opponents' defense, and I was able to find the net more."
Not only did Joran step up her scoring, but she also won three draw controls and caused two turnovers against George Mason and one turnover to go along with her goals in the JMU game.
"Honestly, getting draw controls and causing turnovers is more important to me than scoring goals because they require more hustle," Joran said. "I want to work hard for everyone on our team because I know they would do the same for me."
Joran, who has been a standout midfielder this year, prides herself on being a complete player, and there is a great chance that her style of play will lead to more accolades.
"As a midfielder, you kind of have to be a complete player because your job is to do a little bit of everything," Joran said.
The women's lacrosse team is certainly an unselfish group. They sit at 8-4 on the season and have won six of their last eight games. Strong defense and their ability to beat opposing teams in a number of ways has led to success this season. Currently, six players, including Joran, have double-digit goals.
"Other teams can't focus in on one player because all of our players are threats on attack," Joran said. "I think this is a major advantage for us because when our leading scorers are having trouble finding the net, someone else will step in and score goals."
The Dragons will look for continued success from Joran and the rest of their weapons as they continue their season.
Both Joran and Ouabdelmoumen look to continue their hot play and to perform at a high level for themselves and their teammates.