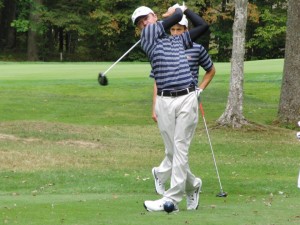 More than five and a half years later, Gary Nolan remembers the first time he met Chris Crawford.
Nolan was a first-year head golf coach at Holy Ghost Preparatory School in Bensalem, Pa.; Crawford was a quiet but secretly precocious first-year student at Holy Ghost.
"We had a stacked team with eight returning players," Nolan explained. "Chris didn't even try out for varsity. He goes to the junior varsity tryout and shoots even par and 1-over, and my JV coach calls me and says that I need to see this kid Crawford play."
So Nolan brought Crawford to the varsity tryout and had him play with the two best seniors on the team.
"Chris shoots one or two over, and they tell me that this kid is the real deal. And he was," Nolan said of his eventual star golfer. "He started every match and was absolutely fantastic."
Crawford clearly belonged on the varsity squad; he may have been young, but neither the level of competition nor his lack of experience deterred him that day. So Nolan asked him why he didn't try out for varsity in the first place.
"He said he didn't want to seem arrogant," Nolan said.
Crawford, now a sophomore on the Drexel golf team, couldn't come across as arrogant if he tried his absolute hardest, even when the success of his game these past few weeks has given him every reason to be.
***
Crawford says he doesn't remember a time when he wasn't playing golf.
Born in northeast Philadelphia, Crawford and his family moved to Bensalem when he was five and a half. He's been a Bensalem boy ever since. Even before his family moved, Crawford took an interest in golf.
A child gravitating toward one of the most plodding and painstaking sports in existence?
"Only Chris," his mother, Karen Borstelmann Crawford, said.
"He has had a club in his hands since he was a baby," she said. "He started around the house, moved onto the range, and then up to the course well before he was five. It certainly fit his personality. He played golf with his father whenever they could."
Starting out with plastic clubs and cut-down clubs that his father gave him, Crawford fell in love with the sport almost as soon as he could pronounce the word. It wasn't a family tradition — just happenstance and a knack for the game.
"In my entire family, my dad was the only other person to play," Crawford said of the origin of his love for the game. "He was getting into the game around his late 20s— around the time I was born— and he started to play, and it was just good timing.
"I took to it well, and I just always loved it growing up, so it just worked out."
He played golf at Spring Mill Country Club as a kid, knocking countless buckets of golf balls in every direction. He said his best golfing memories from his childhood took place at Spring Mill, about 45 minutes from Drexel's campus and 30 minutes from his Bensalem home.
But his early years weren't a monogamous love affair with golf. Crawford tested his hand at soccer, baseball and basketball —though he insists that his skills on the blacktop aren't worthy of inclusion in the detailing of his childhood sports career.
Ultimately, he gravitated toward the methodical therapy of golf and the turn-by-turn patience of baseball, both of which he played throughout high school.
"I always loved baseball, and I didn't want to give it up," Crawford explained. "But we used to play from February to the end of May, so it would delay my golf schedule. Growing [up] I never really got to play much golf in the spring because of baseball season. But I never wanted to give up baseball until I was ready."
As high school wound down, he was ready. Crawford's personal goal was to get a little better every year. As his high school career progressed, he saw that his skill with a six-iron had surpassed his ability to turn a double play at shortstop.
"Toward the end of high school I started playing pretty decent golf, and I started to get an idea of maybe what I could do," Crawford said. "I started competing more and more, just getting more exposure with tournament competition, which really helped."
The August before his senior year, Crawford competed in a qualifying tournament and earned a spot in the U.S. Amateur Championship. He shot a two-day total of 143, including carding a 2-under par 68 at Rolling Green Golf Club in Springfield, Pa., considered to be one of the toughest courses in the Philadelphia area.
Later that same year, Crawford shot a 1-under par 71 at the Wyncote Golf Club in Oxford, Pa., to win the Bicentennial Athletic League individual golf championship. The summer after his senior year, Crawford tied for 26th place at the 2012 Eastern Amateur Golf Championship.
This is what Crawford calls "pretty decent golf." If he starts winning professional tournaments, he might one day say he played a "good"round.
But that's just the way Chris Crawford is and always has been.
"Chris was a quiet and reserved kid while at Holy Ghost," Nolan said of his former star athlete. "He never wanted the spotlight.
"He was extremely mature even as a freshman. That cool and calm demeanor was his trademark."
Those who have watched Crawford play at Drexel certainly know that his cool, calm demeanor has remained steadfast since those days at Holy Ghost.
In a one-week span this season, from April 1 to April 7, Crawford won a pair of individual tournament titles at the Villanova University Wildcat Invitational and the Lafayette College Invitational. In Mike Dynda's 11 years as head coach of the Drexel golf team, he had never before coached a player to such a feat.
To Crawford, it was just another day at the office. Just two days after his second victory he was already thinking about practice and his next tournament to come.
After five individual tournament victories, 11 Top-10 finishes, the 2012-13 Colonial Athletic Association Rookie of the Year award, and a slew of CAA Player of the Week awards, he has shifted his focus to bettering himself for the next day.
"There's no such thing as perfection in golf," Crawford said. "You're always trying to get better every day. You listen to the best players in the world, they all talk about it, trying to get better and better all the time.
"Winning is nice, but there's always somebody out there practicing hard to try and beat you, so you've got to practice a little harder and keep going."
Crawford, still true to his high school tryout days, doesn't want to come off as arrogant in victory. When asked if he's able to stay cool and detached because he expects this kind of success, Crawford said it's certainly not that he has an expectation of success. It's more that he has confidence in the work he has put in.
"I do expect to play well, and I feel like if I put the work in and practice hard, then I feel like the results will come from that," Crawford said. "When I go into tournaments, I expect to compete.
"My goal in every tournament is give [myself] a chance to compete and try to win when it comes down to the final nine and the final couple holes. Put yourself in that position where you're in contention and have a chance to do it. If you put yourself there enough, you're going to do it a couple of times."
In his case, even a couple of times in a row.
***
The entire conversation with Crawford took place over the phone Monday afternoon. The first thing he does when he calls is apologize for not being able to make it onto campus to talk in person.
Majoring in accounting, he's spending his spring and summer quarters working for Paragon Surety Group in Horsham, Pa., but said he doesn't know what he wants to do after he graduates.
"I'm still trying to figure it out. I don't know," he said.
He still has time to decide his future. For the time being, he's just living it up in his here and now.
"I love it," Crawford said of his experience as a student athlete at Drexel. "It's been great. I love every aspect of being able to be a part of the team, traveling to the tournaments. …I just love it all to be honest."
He also loves the sense of anonymity that goes along with being a golfer instead of, say, a basketball player. Crawford is one of the best golfers in the CAA, but only a handful of students on campus would be able to pick him out as a star athlete. For some, this might be frustrating. Crawford said he doesn't mind.
He said, however, that he'd love to see more interest and attention from his fellow students for the entire golf team. Drexel isn't a school known for its rabid athletics culture, but then Chris isn't a typical Drexel athlete, and that has helped the team develop over the last few years.
"I think the team is growing. I think the golf room in the DAC that we have now has been a great addition. We have a lot of support from alumni, and we're gaining some traction," Crawford said.
"We get a lot of people who walk by the golf room and ask us about it and the team and the room, so it drums up interest. I think we're going in the right direction, and I'd love to see some more interest from the student body in general. I think it'd be great."
***
Crawford spent this past weekend admiring how 20-year-old Jordan Spieth competed at the Masters, the most hallowed tournament in golf. Spieth held a two-stroke lead in the front nine of the final round before he was felled by a couple of mistakes and a masterful charge from veteran Bubba Watson.
Crawford said he's a big fan of the young gun Spieth.
"I think he handles himself really well, and I really like his golf game a lot," Crawford said. "He's an awesome player. I was rooting for him. I really enjoy watching him, and he seems to have a lot of fun."
If his parents, former coaches and teammates were asked to describe Crawford and his approach to golf in three sentences or fewer, they might use those exact same words.
That similarity probably never crossed Crawford's mind. He didn't draw a comparison between his game and Spieth's, nor did he even think to imagine himself in that position. It's not his style.
Crawford always takes it one cool, calm hole at a time.