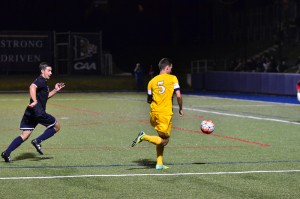 It's been a predictably rough start for the Drexel University men's soccer team. They graduated seven seniors from last year's team, which was mediocre in its own right finishing 5-10-3. They had struggles putting the ball in the net last year, even with a crop of experienced seniors leading the attack.
With so much new blood taking over an already weak offensive squad, it's not surprising that they have faced extensive struggles scoring goals.
They're averaging .625 goals per game, an absolutely dismal mark made even worse by the fact that three of their five goals this season came in a single game, the Sept. 1 loss to Villanova University. They've been shut out five times, and their record is 1-6-1 on the season following a double overtime 0-0 tie against Saint Joseph's University Sept. 22.
Until now, their play has been troubling, but it hasn't been a catastrophic hit to their postseason chances. They've only faced off against one conference opponent and all of their other losses have been out of conference, but that's about to change. The Dragons are heading into their conference slate, and it's unlikely they're going to be able to put it all together and make moves in the conference this year.
They're too inexperienced and lacking top-level upperclassman talent to hold the attack together, and it's likely they will continue to struggle all season. This year seems to be what a certain Philadelphia team would call a "rebuilding" season, as Head Coach Doug Hess and company try to put their players in a position to grow and improve for future seasons, even if it means that the team is less successful in the short-term.
It's not all dark skies and storm clouds for the Dragons though, as they have shown some promising flashes this season. Considering how dismal the offense has been, the defensive prowess shown has been impressive, to say the least. Opponents have taken over 50 more shots against them than the Dragons have been able to tally themselves, and the inability to create an offense puts the defense in a uniquely dangerous position.
Opposing offenses control the ball for most of every game because the Dragons can't get anything going on their own, which forces to the defense to stand strong for longer than they would if the offense was flowing well. Even given that disadvantage, they've held opposing offenses to 1.5 goals per game (12 total), and that's even swayed by the scoring barrage put on by Villanova in early September. They've held opponents to two shutouts, and held them to a single goal three times. Against their toughest opponent of the year, seventh ranked University of Washington, they held a strong offense to a single goal, though they were unable to notch one of their own.
It could be a long season for the young Dragons, but it's an important one. Even though struggles are likely to continue, it wouldn't be surprising to see the team start to put things together as the season goes on. The young guys will become more familiar with the system and each other and the coaching staff will likely be able to work some success with this team before the year is out.
The Dragons take on James Madison University on Sept. 26 looking to turn the tide on this season.