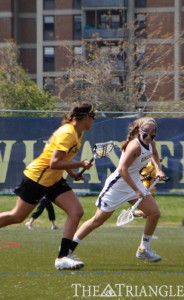 The Pittsburgh Penguins and Philadelphia Flyers aren't the only ones scoring an abundance of goals these days. In the two Drexel University women's lacrosse games this week, sophomore midfielder Amanda Norcini scored five goals and was named Drexel co-Athlete of the Week along with the men's second varsity eight boat.
"To receive this recognition is an honor," Norcini said. "But to me it's a team award because everyone has played well. All of my teammates contributed this week to our success, and anybody could have been given this award."
During a 9-4 victory over the University of Delaware April 13, Norcini led the team with three draw controls and was one of four Dragons to score two goals. With Drexel leading 5-4 in the second half, Norcini cashed in on a free position opportunity and followed it up with another goal minutes later to put the game away for good.
"We played well on both ends of the field," Norcini said. "We possessed the ball efficiently on attack and came up with big stops on defense."
It was a different story April 15 against Towson University, however, as the Tigers defeated the Dragons 11-10. Norcini had a hat trick, scoring three goals in the game, all on free position attempts, including two in the second half to give Drexel a 9-5 lead. Towson then scored four consecutive goals to tie the game and notched the game-winning goal with just 30 seconds remaining.
Although the loss dropped the Dragons to a 9-5 overall record and 2-3 in the Colonial Athletic Association, Norcini and the rest of the Dragons have had no problem scoring this season and are averaging 12 goals per game. Drexel returned six of its top seven scorers from last season, and the offense is clicking at a high level.
"We have everyone back from last year's attacking unit," head coach Anna Marie Vesco said. "They are used to each other's strengths and weaknesses and are displaying great chemistry together."
Norcini hails from Wayne, Pa. and played lacrosse for Conestoga High School. As a freshman at Drexel, she played in all 17 games, recording 11 goals and three assists. She was named to the CAA All-rookie Team and earned the Commissioner's Academic Award. So far this season, Norcini ranks third on the team in scoring with 26 goals and four assists.
"Amanda is very unassuming but is a fierce competitor who hates to lose," Vesco said. "She has been instrumental in all aspects of the game and is an all-around stud player."
The women's lacrosse team wraps up its season this week against The College of William & Mary and Old Dominion University April 20 and 22, respectively. Both of the Dragons' games are at home and will be played at Vidas Field.
Also receiving Drexel Athletics co-Athlete of the Week honors were the members of the Drexel men's crew team's second varsity boat, named the Antoinette Pennoni boat. The boat consists of coxswain Marc Smith, stroke John Pieper, Marcus DeMarici, Filip Topalovic, Brian Timlin, Kevin Rorabaugh, Ryan Mallgrave, Timothy Drake and bow Patrick McGann.
The Dragons earned a gold medal with a time of 5:59.82 in the finals of the 2012 Knecht Cup, held on the Cooper River in Cherry Hill, N.J. April 14-15. The men's crew team earned a total of four medals over the weekend. Drexel will host the Kerr Cup April 21 on the home waters of the Schuylkill River.