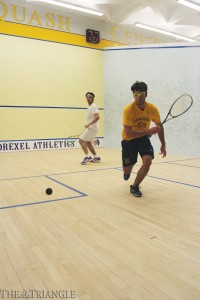 The Drexel men's and women's squash teams returned from winter vacation and resumed the season Jan. 8. The No. 14 women's team stumbled out of the gate against the No. 5 team in the country, the Yale University Bulldogs, getting shut out 9-0. The team lost all nine in straight sets. A closer look into the results showed some close fights, with sophomore Laura Rahauser getting the closest to defeating her opponent, while ultimately falling in straight sets,11-8, 11-5,  11-9.
The loss to Yale drops the Dragons to 2-6 and compounds a dreaded four-game losing streak.
In the same evening, the men's squash team suffered the same result as the women, as they were blanked by the No. 3 Yale team 9-0. The men's team, which was ranked No. 15 heading into the game, managed to steal a couple of sets as well as stay immensely competitive in the subsequent sets, but ultimately fell short of a victory.
Coming into the Jan. 9 match against the No. 1 team in the nation, Trinity College, the men's team looked to get one in the win column and even out their 2014 record. Dubbed "the Alabama of squash" by one spectator, the team faced a tall task of dethroning the best team in the country.
The reigning national champions blanked the Dragons 9-0 in extremely competitive matches. Senior Justin Singh lost a hard-fought match that saw him taking his Trinity counterpart to the brink. He lost in three straight sets, but two of them ended in a 12-10 score.
Senior Ben Bevan commented after the game about what it felt like playing the national champions. "It was a humbling experience, to say the least, in playing the national champion from the last 14 or 15 years," Bevan said. "You know, around two years ago we couldn't hang in the court with these guys and now we're here and taking them down to the wire in almost every game. It's good that we keep playing against this kind of competition."
Freshman Nat Fry also saw the value in playing such an elite team as Trinity. "It's just a great experience coming down to the courts and getting play time against teams like Trinity, and just get better at the game by playing them."
"We're not losing by much, you know, we're playing great teams and we know it makes us a better squad," Fry continued.
With the most recent loss, the Dragons drop to 3-7 on the season and 0-2 in the new year. Their home stand continues with a doubleheader Jan. 18 against Tufts and Bucknell. They also play the following day with a match against Middlebury College.