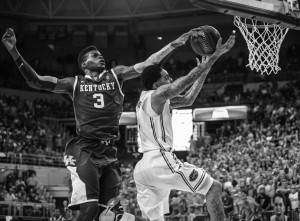 For months, the Philadelphia 76ers fans have anxiously awaited the return of basketball and the chance to finally watch their team go at it once again.
The preseason has mercifully arrived and the Sixers' preseason began Oct. 6 as they faced off against the Boston Celtics in a display only fit for preseason play.
All Sixers fans were on the lookout for the reveal of Nerlens Noel, a defensive menace that can play either the power forward or center positions, who sat out his rookie season to nurse a torn anterior cruciate ligament he suffered in college.
Noel, besides having one of the most incredible flat-tops in the league, is an athletic specimen despite being a bit raw on the offensive end of the floor.
His rough edges were on display for all to see in the Celtics game, as he started the game looking nervous and apprehensive on the offensive end and slightly timid on the defensive end.
As the defensive anchor for the team, he struggled tremendously against the heavier Brandon Bass and Kelly Olynyk, centers for the Celtics. They were able to bully him in the post and get him out of defensive position, allowing them to score 15 and 14 points, respectively.
While that might sound terrible and give the impression that Philadelphia fans are rioting outside of general manager Sam Hinkie's house at this very moment, it's important to keep his performance in perspective.
Nerlens is 20 years old. He's coming off his first season of professional basketball, where he played for exactly zero minutes. He's been itching to play professionally for his entire life, and with lofty dreams like that come nerves.
On the bright side, Hollis Thompson, a young guard who came off of the bench for the team last year, looked strong in his preseason debut. In one half of play, Hollis went 5-5 and scored 15 points, including shooting a perfect 3-3 from the three point line.
Over the offseason, Thompson worked on his strength and three point shot, and the improvement has been noticeable. Last year, he looked fairly weak and at a disadvantage when he tried to create offensive opportunities for himself. This year, he's put on some weight and looks to be a force for his team.
His play couldn't save the team though, as they fell 98-78 in the game.
From the poor performance in the opener, the Sixers moved forward, putting on a show against the Charlotte Hornets in their Oct. 8 showdown.
Noel looked considerably more comfortable with the game, gathering nine rebounds while blocking three shots, which resembles the output he had in the Orlando Pro Summer League. He looked more himself, adding 10 more points including a pretty bucket off of an alley-oop from newcomer Alexey Shved, who the Sixers acquired in a trade with the Minnesota Timberwolves.
Shved also had a good game, notching 11 points with four rebounds in a little over 20 minutes of play.
Through the performances of Noel and point guard Tony Wroten, who scored 15 points and got seven assists in the game, the Sixers came away with a 106-92 victory.
Another standout in early preseason play has been rookie K.J. McDaniels, who made headlines this offseason when he passed up a four-year contract with the first two years guaranteed for a one-year, non-guaranteed deal. This deal gives McDaniels more freedom in the future, as he becomes a restricted free agent next year and will be able to sign for more money than his draft position would have given him on the four-year deal, but it depends on him producing well this year.
So far, all indications are that he is going to live up to his expectations. In his first two games, he's blocked five shots and gathered in four steals. From a wing player, this is incredibly valuable on the defensive end, as he will be needed to help Noel anchor the defense this year.
The team has looked about as expected in the preseason, and the sports desk predicts a 21 win seasons this year and oodles of fun along the way.