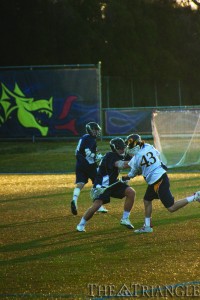 Two Drexel University athletes were recently recognized nationally for their hard work. Casondra Clawson of the women's crew team and Kyle Bergman of the men's lacrosse team were named All-Americans by the National Strength and Conditioning Association.
The announcement came May 12 when the NSCA released the list of the 247 All-American players recognized for their exceptional work as part of strength and conditioning training. The list includes collegiate and high school athletes from all over the country, representing 96 schools. The NSCA gives the annual awards to "those collegiate and high school athletes whose athletic accomplishments, in the opinion of their strength coach, reflect their dedication to strength training and conditioning."
Mike Rankin, director of strength and conditioning at Drexel, is a certified NSCA Personnel Trainer. As a member of the NSCA, he nominated Clawson and Bergman for their hard work in the gym that he witnessed from them this year.
Rankin surprised Clawson when he initially notified her of the recognition. A senior and member of the women's crew varsity eight, Clawson was the only member of a crew team to be named an NSCA All-American in the entire country. She has worked hard and sees it as a "big accomplishment" for herself.
"I guess it validates all the time I spent in the weight room," Clawson said. "It's nice to know I work as hard as top athletes around the country."
For Bergman, a junior, the award also came as a surprise. He recently completed his fourth season as a member of the Drexel men's lacrosse team. Bergman was one of the seven lacrosse players to be listed nation-wide for the award. He understands the gravity of the award's meaning and plans to keep working hard in wake of the recognition.
"Now I can't take any days off," he said. "It's like, now it's this level, you get this award, and now people expect you to bring it every day. So obviously, I guess I was doing something right before, so I'm going to keep doing what I do — work hard."
Clawson stated that her team was full of great athletes. Bergman also spoke about his teammates, pointing out that he does the same workouts as his teammates.
"Every kid on my team does the same things I do, so it says a lot about my team too and the atmosphere that I come from everyday," Bergman said. "It's always been the mantra of our team to work hard."
Although they come from two different sports, both Clawson and Bergman agree on the importance of hard work and how it leads to success, not just in sports.
"It's very important to train hard," Clawson said. "Your natural ability will only take you so far."
Bergman also discussed some of the other potential benefits of working hard in his sport.
"It's really important, because the work that I've put in — and my parents told me that — you work hard in sports, and it's correlated to everything else you do in life," Bergman explained. "You work hard in the workplace, and you work hard in school."
Bergman also pointed out what the recognition says about the entire program at Drexel. All of the athletic programs at Drexel benefit greatly from the effort put in by Rankin.
"To be recognized nationally, it says a lot about my program and about Coach Rankin and what he does here too," Bergman said.
Having two athletes of different genders from two different sports recognized for training highlights Rankin's work. As strength and conditioning director for the entire athletic department at Drexel, all teams benefit from his support. With this continued guidance, it may not be long until another Dragon athlete is recognized for their dedication to strength and conditioning in the near future.