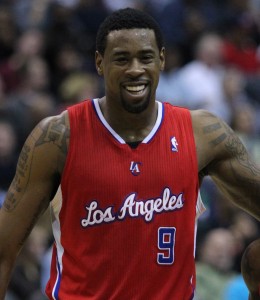 WINNERS
San Antonio Spurs: The Spurs signed forward LaMarcus Aldridge to a four-year contract and re-signed guards Kawhi Leonard and Danny Green. The team now has a legitimate successor to aging forward Tim Duncan in Aldridge. And they signed forward David West to the veteran's minimum? Pencil them in for the NBA Finals right now.
LeBron James: The Cleveland Cavaliers are giving out max contracts left and right to James' teammates, and he's next. In fact, I'm ready to sign my own max contract with the Cavs!
Wes Matthews: Matthews was injured towards the end of last season and still managed to score a $52 million deal from the Dallas Mavericks. That's impressive.

Miami Heat: The Heat re-signed point guard Goran Dragic, and more importantly worked out a good compromise with veteran guard Dwyane Wade. The Wade deal shows that they "take care of their stars," even though teams shouldn't be paying players based on past performances.

Milwaukee Bucks: Milwaukee signed Greg Monroe to a three year max contract. They have a good, young nucleus with guard Michael Carter-Williams, forward Jabari Parker, big man Gian-nis Antetokounmpo and now, Monroe. With these pieces in place, the Bucks are suddenly an ex-citing team in the East.

Los Angeles Clippers: With their bizarre, eleventh-hour salvage of the DeAndre Jordan situa-tion, the Clippers managed to hold on to any delusions of a shot at a title in 2016. It was messy and embarrassing, but they finally got their man in Jordan. Maybe this will teach Chris Paul to be a little nicer to his teammates.
* * *
LOSERS
Los Angeles Lakers: They struck out on Aldridge. They struck out on Jordan. They struck out on Monroe. The consolation prize? A past-his-prime Roy Hibbert. Lesson learned: big market teams do not have the same allure as they used to. The Lakers' pitch to Aldridge wasn't enough to bring him to sunny California.
Dan Gilbert: All that luxury tax money that Cleveland-owner Dan Gilbert will have to shell out because of max contracts to forward Kevin Love, forward Tristan Thompson and LeBron James? On top of the contract he gave to guard Iman Shumpert? That's quite the bill.
Detroit Pistons: Throughout this free agency, the excuse to give out massive contracts was the coming NBA TV deal. At what point do we recognize dumb deals for what they are? Detroit sure doled one out. They bid against themselves and gave restricted free agent Reggie Jackson a five-year, $80 million contract.
Portland TrailBlazers: What's worse than losing your former franchise cornerstone? Nothing. Aldridge is gone and the Blazers are irrelevant this year.

DeAndre Jordan: Yes, Jordan gets the money. Yes, Jordan has a shot to be very good for a very long time in Los Angeles. Yes, Jordan provided us with the Twitter day of a lifetime. But he emerges from the wreckage a man who, in the end, reneged on his word. He went back on his commitment to the Mavericks' organization, which is never a good look, and to cap it all off, the Clippers have little to no chance of making the NBA Finals this season.

Sacramento Kings: The Kings traded away a top-10 draft pick one year after he was drafted, tried to get out of their coach's contract without paying him, and had to settle for Rajon Rondo and Kosta Koufos. I'm actually impressed with the level of incompetence they've displayed.