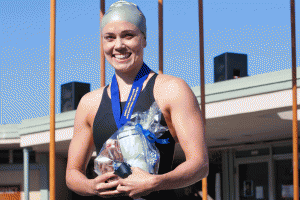 Twelve-time Olympic medalist Natalie Coughlin failed to qualify for her fourth Olympic Games in the qualifiers held in Omaha, Nebraska July 1.
At some point in their careers, all athletes come face-to-face with the end of their peak performance period. However, for Olympic athletes, the decision to retire from Olympic competitions is not always one made by choice. Sometimes something as small as a tenth-of-a-second in a trial run can end their Olympics career.
Coughlin's hopes of making her fourth Olympic Games ended at age 33.
During training for the Rio Olympics, Coughlin's times and performance seemed good enough for her to qualify. She swam the 100-meter backstroke in 1 minute 46 seconds which landed her in eighth place June 28. She won gold at the Olympics in this event in 2004 and 2008.
She followed with an event on June 30, swimming the 100-meter freestyle in 54.87 seconds earning her a fifth place finish. She failed to advance to finals in an event that she had performed so well in, just seven months prior.
"I just didn't have it for these trials. It's … just heartbreaking," Coughlin said.
Although she will continue to compete, exclusion from these Olympics will provide her the chance to focus on life outside of the pool, including raising her baby girl and focusing on hobbies that she enjoys.
In her 33 years, Coughlin has had various athletic accomplishments and has influenced many young women. Aside from her athletic achievements, she has appeared on "Dancing with the Stars," written a book and been on the cover of many magazines, most notably the 2015 ESPN Body Issue.
As one of the most decorated female Olympic swimmers, Coughlin will be cheering for her team during the 2016 Olympics as they continue on without her.