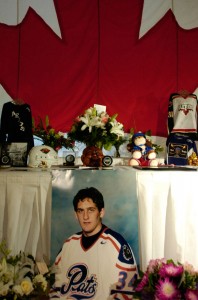 The NHL says goodbye to a fighter with a kind heart.
The Hockey News reported that former Minnesota Wild and New York Ranger Derek Boogaard was found dead in his Minneapolis, Minn., apartment May 13.  He was only 28 years old.
No foul play is suspected. Boogaard's history of concussions was discussed as a possible factor contributing to his sudden death.
The results of Boogaard's autopsy were released May 20, revealing that a mixture of oxycodone and alcohol led to his death.  The Hennepin County Medical Examiner's office ruled that the mixture was accidental, eliminating suicide or a concussion as possible causes. However, his death being ruled accidental can be rather deceiving. An accidental death involving prescription pills typically means that the drug levels in the toxicology report are not high enough to show that a person was trying to kill himself.
Oxycodone is a painkiller used to alleviate severe pain and can be very addictive. Boogaard may have used this drug to combat his concussions sustained from play.
Boogaard was also involved in the National Hockey League/National Hockey League Players' Association substance abuse and behavioral program at the time of his death. This brings forth the question: why was he in the substance abuse program, and for what reason? The NHLPA cannot and will not comment on Boogaard's involvement in the program because it is promised to be confidential. The evidence does show that Boogaard had an addiction to painkillers and strong possibility of depression.
"After repeated courageous attempts at rehabilitation and with the full support of the New York Rangers, the NHLPA and the NHL, Derek had been showing tremendous improvement, but was ultimately unable to beat this opponent," Boogaard's family said in a statement released to the press.
There is no doubt that Boogaard had problems off the ice. It is also very troubling that he was somehow getting oxycodone through an unknown source, even though he had an addiction problem.
Boogaard missed almost three quarters of the season due to recurring concussion symptoms after signing a four-year, $6.5 million contract with the New York Rangers.
The 6'7", 280 pound enforcer had an underwhelming first season on Broadway, but he was still a fan favorite and well liked by his teammates.
The news of his death sent shockwaves through the Rangers and Wild organizations.  Fellow hockey players tweeted their shock and condolences to the Boogaard family.
His last fight of the 2010-11 season was against Matt Carkner of the Ottawa Senators Dec. 9.  Boogaard took a huge shot from Carkner in that fight; the punch effectively ended his season. According to hockeyfights.com, Boogaard dropped the gloves seven times in 22 games.
The punch by Carkner was huge, but that hit ending his season is undoubtedly strange. There must have been other factors that attributed to the concussion. He might have sustained the concussion earlier in the year, and Carkner's hit jarred something else, making the situation much more severe.
This incident will again spur the argument of whether or not fighting should be banned in the NHL. Outsiders and casual fans will say that it is a barbaric sport, and that fighting is unnecessary in organized sports.
"Though he was a fighter on the ice, he was definitely a gentle giant off the ice," teammate and roommate Brandon Prust said.
It's a sad time for the NHL and Boogaard will certainly be missed.