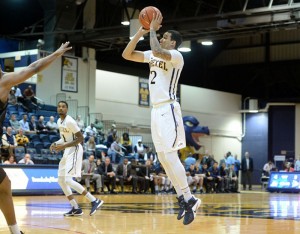 Another week shows much of the same storyline for the Drexel University men's basketball program. In watching this team play, one may be tempted to recall Albert Einstein's oft-quoted definition of insanity: "Doing the same thing over and over again, and expecting different results"— in this case, unfortunately, victory.
A Feb. 11 matchup against the University of Delaware showed promise for another notch in the win column for the Dragons. At 6-18, the Blue Hens had been experiencing many of the same emotions as a young, guard oriented team that had flashed potential, but had found victories rather elusive. With guard Kory Holden held out of the starting lineup due to a violation of team rules, Delaware seemed liable to extend their school-record 15 game losing streak.
At the outset, this vulnerability really showed. The Dragons weren't slowed at all by the absence of Tavon Allen in the starting lineup, thanks to the spectacular play of Sammy Mojica, who continued his recent hot shooting. As the Hens sat back in a passive 2-3 zone, Mojica feasted, draining three early triples in just four possessions. He wasn't the only one joining in the frenzy; the Dragons' lead hovered around 10 points for much of the first half, and with 10 minutes remaining they were shooting a blistering 71 percent from the field. But then Delaware seemed to snap awake, switching to a full court defense that completely took Drexel out of their rhythm and allowed them to tie the game on a deciding 11-0 run to end the half.
With their shooting back to mortal levels, it was the Dragons' turn to look vulnerable. They simply had no answer for the inside play of Marvin King-Davis, who asserted himself in Holden's absence for a game-high 23 points. In a back-and-forth second half, Drexel just couldn't come through with the critical scores or stops to put them over the hump, culminating in an open missed three by Tavon Allen that would have brought the game to within one point with 30 seconds remaining. The final score was deceivingly lopsided, a 69-60 victory for Delaware.
Sunday's matchup with Northeastern University was not so nail-bitingly close. The Huskies pounced on Drexel's porous defense, raining down 11 threes within just that game. Five of those came from a 21-point performance by David Walker, who tied the school record for three-point baskets during the contest. Overshadowed by Walker's shooting prowess was Drexel's Rodney Williams, who was profoundly efficient in gathering his season-high 23 points. One of his nine field goals, a rim-rattling jam during a late second half push, came off of a gorgeous feed from a rejuvenated Terrell Allen. However, his energy was not enough to overcome the Northeastern attack and the Dragons were slain yet again — this time, 70-60.
It is easy to apply Einstein's quote to Drexel's men's basketball season. Two more games with much promise, but the same excruciating, sanity-bending results. However, another definition may be more apt to describe the viewer experience for a Drexel basketball game. From Merriam Webster: "The feeling of anger or annoyance caused by being unable to do something." Frustration.
This frustration is certainly not due to a lack of effort — despite their other shortcomings, they have played hard all season, regardless of score or situation. This frustration is that it seems as though the Dragons deserve better. Manny Mojica has found his shooting stroke, Terrell Allen is back to his playmaking self, Rashann London is becoming more comfortable on the floor, and no coach in the Colonial Athletic Association visibly lives and dies on every possession as much as Bruiser Flint. It seems as though for all their efforts the basketball gods should one day look fondly down upon them. Hopefully that day will come soon.