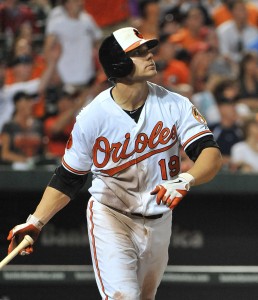 Major League Baseball suspended Ryan Braun of the Milwaukee Brewers July 22 for the final 65 regular-season games and any potential postseason games of the 2013 season.
I'll give you three guesses as to what he was suspended for.
Yes, once again, Braun was tagged by the league for performance-enhancing drug involvement and abuse. For those of you counting at home, 10 of the last 24 winners of the American and National League MVP awards were players who have admitted to using PEDs.
Alex Rodriguez, Barry Bonds, Miguel Tejada, Jason Giambi, and now Ryan Braun have all tested positive for PEDs and subsequently admitted to using them.
The Steroid Era, as it has come to be known, has ruined the enjoyment of modern baseball because it has destroyed the possibility for another Hank Aaron. There will never be another Babe Ruth, Reggie Jackson or Ted Williams.
In today's baseball landscape, success now comes with a subconscious price tag. It's almost reflexive: If a player is both new and suddenly good, he must be cheating. There is no other way.
There was a time when I would have been enthralled by this year's power-hitting monstrosity, Chris Davis of the Baltimore Orioles, who tied Jackson's record mark of 37 home runs before the All-Star break July 14.
Tying a record — especially a record set by a baseball icon as tall as Mr. October — is as good as it gets for baseball, players and fans alike. The game is so intrinsically tied to numbers, with each turn making a season the equivalent of a gigantic role-playing game, that when a historic number falls, it's meant to mean something.
MLB's records are meant to be tied and broken, but they are meant to be tied and broken on level ground, men topped by equal men.
Instead, when I witnessed Davis tie Jackson's record, I was struck by an overwhelming sense of cynicism. It was impossible to believe that this epic feat meant anything beyond providing damning evidence for yet another PED abuser in baseball. Davis' totals, to that All-Star break date, were already higher than his totals from all 139 games he had played the year before. He had always possessed a power-hitting prowess during his days with the Texas Rangers; however, he never played more than 60 games in a season from 2009 to 2011 because of his penchant for striking out.
Then, after a fortuitous trade, he got a shot with the Orioles last season. He hit 33 home runs, drove in nearly 100 runs, and progressed quickly. Davis is now one of the two best sluggers in the game this year.
So this means that it took just two years and a change of scenery for Davis to go from hitting .192 in Texas to hitting 37 home runs before the All-Star break in Baltimore.
See why it's so hard to believe?
It really shouldn't be this way for baseball players. In sports, while they always seem random on a case-by-case basis, pop-up superstars are a pretty common phenomenon. A player finally figures out a mechanical fix for whatever was plaguing his or her game, and all of a sudden the floodgates open.
In baseball, however, it has become a different story. No longer are fairytale players plausible or believable. Players like Rodriguez, Bonds, Giambi and Braun have done their best to ensure this. And still Rodriguez, Giambi and Braun maintain MLB contracts. There has been no true punishment for defaming and defacing a sport once beloved for its workmanlike approach to recognition and adoration.
That those three players remain employed in the very league they have cheated time and time again is a testament to why the success of players like Davis, Jose Bautista, and even perennial slugging champion Miguel Cabrera must be viewed with a grain of salt.
This is why it's time for Commissioner Bud Selig and MLB to start banning players. For life.
It may seem like an extremely dramatic step, the lifelong banning of players for transgressions that seem to be only skin deep. The MLB Player's Association would certainly have something to say on the matter. Passing such a rule would be an extremely convoluted process in today's MLB.
And what's the point? Rule-breaking happens every day, you might say.
But in the common workplace, you and I can't repeatedly break key company rules and realistically expect to retain our jobs. Were I to test positive for an illegal substance during a random company-wide drug test at any job, I would fully expect to be fired. There would be no safety net, no expectation of returning to the company, and no adoring fans to fall back on.
Breaking explicit rules should result in discipline. It's time for the bosses of MLB to start behaving like the bosses of the rest of our country's organizations and corporations.
And this isn't just pointed at repeat offenders. This is pointed at any player who breaks the rules outlined in the league's Joint Drug Treatment and Prevention Program. Under Section 2, the rules clearly outline a list of 65 performance-enhancing drugs that are banned while participating in MLB.
There's no shaky legal speak in Section 2. It's extremely straightforward:
"All Players shall be prohibited from using, possessing, selling, facilitating the sale of, distributing, or facilitating the distribution of any Drug of Abuse, Performance Enhancing Substance and/or Stimulant (collectively referred to as 'Prohibited Substances')."
In short, players are not allowed to be associated with the drugs.
Which is why, once a player is proven guilty beyond reasonable doubt of breaking this excruciatingly clear and rigid rule, that player should be banned from the league whether or not admission is ever given publicly or privately.
Because, as we were once taught, when you break a rule, there are consequences. When you cheat fans, teammates, opponents, coaches and owners of their time and hard-earned money, there are consequences. And if the league doesn't back up its own policies and rules with a punishment harsh enough to ensure that they will no longer be broken, there is no reason in even putting the rules in place.
By not banning players after they break a rule as important and prevalent as PED use, the league is essentially endorsing their use. They are telling players that while they will be punished in one sense, they will also be allowed to return to seven figures and lavish lifestyles relatively soon.
There were rumblings during the Mark McGwire and Sammy Sosa home run duels in the late '90s that MLB executives and higher-ups willingly ignored PED use because it fueled fan interest. But it became very clear during Bonds' eventually successful run at Aaron's home run record that fans don't want tainted records. They don't want the game that they have loved for years to become tarnished by players who feel the need to step on over a century of bare-bones skill and determination.
To expect 20-year-old All-Star Bryce Harper of the Washington Nationals to indulge in the same diet as Ted Williams in 1941 is unrealistic. To ask these men to adhere to customs 70 years before their time is foolish.
But what isn't foolish is asking them to adhere to rules set by the league that has afforded them the chance to play the sport they love. Nor is it foolish to expect the league that has 144 years of history to defend the honor of the men who came before the Steroid Era.
The most curious part of this era, in fact, is that MLB actually has a history of banning players for cheating.
Take, for example, the case of the 1919 World Series "Black Sox" scandal, in which the eight White Sox players charged with throwing the games were declared ineligible by Commissioner Kenesaw Mountain Landis. He cited the need to maintain the game's clean image.
In 1989, Pete Rose, at that time the manager of the Cincinnati Reds, was placed on the league's ineligible list by Commissioner Bart Giamatti after a report by lawyer John M. Dowd provided evidence that he was spending north of $10,000 per day wagering on Reds games.
Both of these instances resulted in lifelong bans because of Rule 21 in the MLB rulebook, Section D:
"Any player, umpire, or club or league official or employee, who shall bet any sum whatsoever upon any baseball game in connection with which the bettor has a duty to perform shall be declared permanently ineligible."
It seems time for the league to institute a new rule on misconduct in the wake of the past two decades of "baseball" that can only be labeled as a gross misrepresentation of the sport.
Let it read:
"Any player who is determined to have violated the league's Substance Abuse Policy whatsoever shall be declared permanently ineligible."
With the passing of that rule, the game would have a chance to be restored to its glory days, a time when baseball was as much a religious gathering as anything held on Sundays. Ballparks were chapels and pitchers the pastors; the baselines were the aisles and the bleachers were the pews. Fans gathered to watch men who had spent countless hours just swinging, throwing and running to reach this point. The players were the saints of the two-seams.
Today, if they don't cheat, they're just victims of the unpunished violations.
Oakland Athletics General Manager Billy Beane once said that it's hard not to be romantic about baseball.
Unfortunately, it feels like another saying may be creeping into the sport's vernacular: "It's hard not to be cynical about baseball." The players who play and the men who pay both seem unwilling to make a change that is necessary to maintain the integrity of baseball.
While Braun, Giambi and Rodriguez continue to remain tied to professional baseball teams, there are hundreds, and thousands, and maybe millions of twentysomethings around the world chomping at the bit to get a shot under the MLB spotlights. They don't bring needles and pills; instead, they bring a love for the sport and a desire to play, not just win.
To the players who don't cheat, the phrase "at any cost" means something completely different than it does to the players who do. As we wait for an answer from those who run a league rapidly running out of wiggle room, there is the question of "What is that cost?" which has been sitting at Selig's feet for the past decade.
Because in the ultimate sport of numbers, there is no place in the box score for "PEDs used."