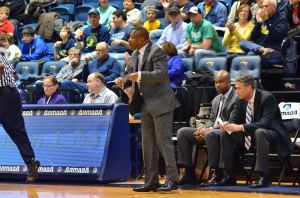 At halftime of the Drexel University men's basketball team's 77-67 loss to Elon University Jan. 3, the Dragons trailed by 18 points thanks to a dunk from forward Mohamed Bah with less than a second to play.
The ferocious slam from the sophomore big man prevented a 20-point halftime deficit. Even still, the 18-point gap was the biggest halftime hole of the year for the Dragons.
The Phoenix, a notoriously offense-centric squad, lit up the Dragons for 46 first-half points, including 10 three-pointers. Nothing was going right for head coach James "Bruiser" Flint's team on the defensive end, and as far as Elon coach Matt Matheny's players were concerned, their rim was as wide as the Schuylkill River.
"Honestly, these guys just got hot from the three-point line," Flint admitted after the loss. "They don't shoot it like that. They only made one in the second half, if I'm not mistaken. It was a big one, but they made one in the second half."
Elon entered the game shooting 36.1 percent from behind the arc, and averaging about seven made three-pointers per game. Against the Dragons, the Phoenix knocked down 11 of 20 attempts, tying the most three point shots allowed by Drexel this season.
"Got to give them credit," Flint said. "They just got so hot."
But Flint didn't panic at halftime. He told his players they'd get their chances. The first half just went Elon's way, he told his eight guys. He told his troops — and himself — the pendulum would eventually swing back.
"It was just like, yo — keep playing and we'll get ourselves back into the game," Flint said. "Now, if they keep shooting like they were shooting, then you're in trouble. If not, we'll have our opportunities to get back in the game.
"And we did."
For parts of the second stanza, he was right. The Dragons cut their deficit to 10 points a number of times, and even drew within single digits down the stretch. Junior guard Damion Lee scored 20 points on 12 second-half field goals and freshman point guard Rashann London added 11 points of his own.
But the struggling team never successfully stitched up the gap, getting in its way more than a few times.
"When we [had our chances], we broke down," Flint explained. "We cut it to 10, we give up a drive. We give up a three. We miss two foul shots to cut it to nine.
"When we needed to make a play, we didn't. That's the bottom line."
The chances were certainly there.
With 13:21 to play in the game, the Dragons drew within 10 points, 50-40, on a three-pointer from London. On the ensuing possession the Dragons allowed an offensive rebound and a bucket from Elon to stretch it back to 12. After tying it again, the Dragons turned the ball over and Elon's Kevin Blake made it 54-42, another 12-point gap.
Later, trailing 56-46, Drexel allowed Elon to hit a layup, and then turned the ball over, missed a three-point attempt, and allowed Elon to hit a deep ball of its own.
When the Phoenix stretched it to 15 points, the clock had dipped below nine minutes to play. The Dragons wasted over four minutes of game time on a seesaw before letting Elon off the hook with nothing to show for it.
At that point, it was out of reach. The Dragons were gassed, something Flint attributes to the admittedly restricting eight-player roster decimated by injury.
"Honestly, towards the end of the game we get tired because we don't have that many guys," Flint said. "So you've got to keep it up.
"If we had all juniors and seniors, we'd be fine. They can handle it. We've got freshmen. Once they get tired, they're — mentally, they might as well just not be on the court. That's when the breakdowns come into it."
And the Dragons' injury situation isn't going to improve any time soon, as forwards Rodney Williams and Sooren Derboghosian are both out indefinitely.
Drexel (2-10, 0-1) plays again Jan. 5, when the College of William & Mary Tribe (7-5, 0-1) trek to Philadelphia at 7 p.m.