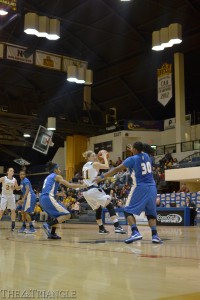 Philadelphia's reputation this basketball season has been boosted by the fantastic play of a fourth-year guard. This guard is averaging just under 20 points per game and has been the cornerstone of the team's offense, gaining national attention from peers and developing quite the well-rounded game.
Did you guess Jrue Holiday of the Philadelphia 76ers?
Take a look in University City, actually. There's a Drexel student named Hollie Mershon you might want to get acquainted with.
This week, Mershon was named co-Colonial Athletic Association Player of the Week for the second time this season. Her first award came the week of Nov. 12, highlighting the consistency she has demonstrated all season as she continues a career year in her final campaign for the Dragons.
How consistent has her dominance been of late?
Mershon has averaged 22.0 points per game during conference play, 20 or more in five of the Dragons' last six games, and 18.4 per game this season on the whole thus far.
She has been integral to Drexel starting CAA play 3-0 for the first time since the 2007-08 season, a feat that has the team tied for first in the conference with the University of Delaware.
Mershon's scoring prowess has been key lately. In a tense contest Jan. 10 against James Madison University, she scored 17 points in the second half, including the two game-winning free throws with four seconds remaining. The Dragons had been down by as many as 15 points in the first half, but that didn't matter to Mershon.
She averages 32.6 minutes per game, and while scoring 9.6 more points per game than any other player on the team, she has led the Dragons to an exceptional 10-4 record.
Which leads to the question: Is she the most valuable player in the CAA? It's entirely possible.
It's difficult to make an argument against the other co-Player of the Week, Delaware's Elena Delle Donne, being the most talented player in the conference when she averages 23.4 points and 10.6 rebounds per game. She is the Blue Hens' superstar — the reason they have garnered so much national attention these last few years. She was even named the National Player of the Year last season.
But in terms of the CAA MVP, there are few players who mean more to their team than Mershon. For example, Delle Donne has two other players on her team averaging 9.4 points or better per game to back up her scoring, while Mershon doesn't have any teammates averaging over 9.4 points per game. While her team has certainly backed her up when necessary, Mershon has been forced to create more for herself than Delle Donne ever has to.
Old Dominion University, another elite team in the conference, has two players averaging double-digit points per game, but neither Jackie Cook nor Shae Kelley is a singular workhorse for the Monarchs, eliminating both from contention for being the most valuable in the CAA. And Northeastern University bears a three-pronged offensive attack with a trio of double-digit scorers, only furthering the argument for Mershon.
The discussion comes down to Mershon and Delle Donne, two players who play very different games yet have similar statistics. Delle Donne averages 5.0 points and 3.3 rebounds per game better than Mershon, but her support scoring is far greater.
Without Mershon as their leader, the Dragons would be lost in the CAA's sea of competition. With their captain, it feels like she and this team are ready to do some special things.