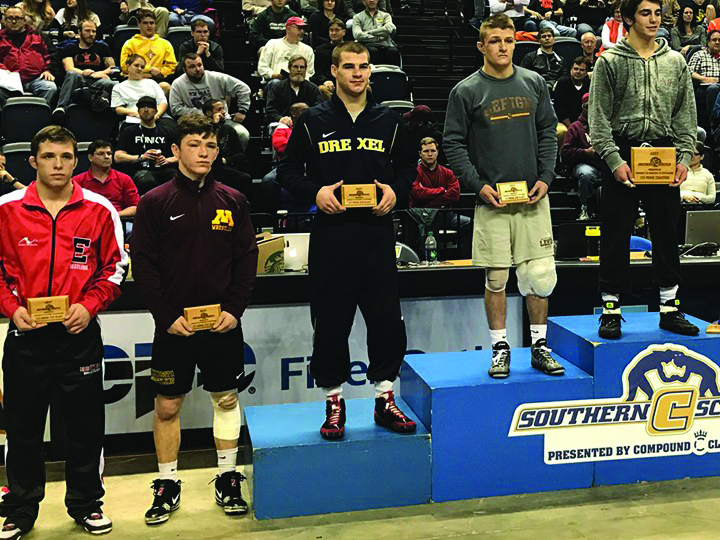 The Drexel University wrestling team took to the mat at the Southern Scuffle, held in Chattanooga, Tennessee Jan 1. Drexel and 22 other schools were present on this New Year's Day match. The Dragons wrestled some tough opponents, but at the end they did an excellent job keeping composure and wrestling with technique.
Junior Tanner Shoap wrestled in the 125-pound weight division. He lost his two matches, but he wrestled fiercely. He faced two tough opponents, one of which was ranked number eight.
In the 133-pound weight class, senior Kevin Devoy Jr. was the third ranked wrestler in his weight class. Devoy's first match was against Dylan Hyder out of the United States Air Force Academy. He beat Hyder on an impressive 13-5 majority decision.
Devoy was then defeated by number six Josh Alber of Northern Iowa University in a tough fought 8-4 decision. He turned things around, however, and won his next three matches.
The first win in the streak was a medical forfeit, but then he went on to defeat his opponents by way of 10-4 and 7-6 decisions. Devoy lost his final match against Alber, but overall he took home a fourth place finish.
In the 149-pound weight class, senior Matthew Cimato began his matches with an impressive win streak. He won three in a row with a 13-0 majority decision, a technical fall and a 4-0 decision.
Cimato then lost to number three Patricio Lugo out of Edinboro University in a close 3-2 decision. Cimato turned around and won his next two matches by a 5-1 decision and a 11-0 majority decision. He lost his last two matches to two tough opponents ranked in the top five, but he still came away with a solid sixth place finish.
In the 165-pound weight division, junior Austin Rose started off his matches with a solid 6-2 decision win. He lost his next match to a tough opponent but he kept the match close only to lose in an 8-5 decision. Rose won in his next two matches by way of 5-4 and 6-5 decision, but lost his final match.
Freshman Dakota Greene also wrestled in the 165-pound weight class. He wrestled hard but lost his two matches. He certainly showed his toughness, however, hanging in with two good wrestlers.
In the 174-pound weight class, freshman Ebed Jarrell won one of his three matches. He defeated Tanner Davis from the University of Northern Colorado on a 11-2 majority decision.
Juniors Alex DeCiantis and Stephen Loiseau both wrestled in the 184-pound weight
division.  DeCiantis lost his first match but came back to win his next three. He won a 5-4 decision, a 7-6 decision and a 3-1 decision. DeCiantis went on to lose his final match, but overall the showing was a strong
one for him.
Loiseau put together a similar effort. He won two out of his four matches,  with one of the losses coming from his teammate DeCiantis.
In the 197-pound weight class, junior Joshua Murphy lost his first match, but similarly to his teammates he went on to win his next three matches. He won by way of a win by fall, 6-2 decision and a 3-2 decision. Murphy lost his last match in a close 10-9 decision.
In the 285-pound division, junior Joey Goodhart put together an even performance. He won his first two matches by a technical fall and then a 4-3 decision. Goodhart lost his final two matches to two very good wrestlers. The final counts in both matches were an 8-0 majority decision.
Overall, the Dragons had a solid showing at the Southern Scuffle. They placed 12 out of 23 schools, so certainly not a bad performance but there is also room to improve. Drexel will be facing Cornell University Jan. 13 in Ithaca, New York. Drexel will then come back home to the Daskalakis Athletic Center where they will face Stanford University Jan. 15.