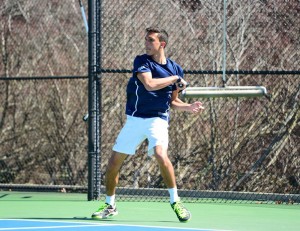 After a week filled with competition, the Drexel University men's and the women's tennis teams played their best and managed to improve their overall season records.
On April 6, the Lady Dragons lost their match with a close score of 4-3 against Towson University. Honami Yazawa and Ryshena Providence were the only ones who won their singles matches, with scores of 6-3, 4-6, 6-3 for Yazawa and 7-6 (5), 1-6, 6-4 for Providence.
Clary Rodriguez Cruz lost in her second singles match; 6-4, 6-0. Lea Winkler lost in a 3 set match with a score of 3-6, 6-4, 7-5. Bunch, also lost in a 3 set match; 3-6, 6-2, 6-4. Fiorella Coria, the junior, lost in a 2 set match, 6-4 6-4. Yazawa & Rodriguez Cruz teamed up for 1st doubles and won their match 6-1. Bunch & Winkler played 2nd doubles match and lost in a close score of 7-5. Bowsher & Providence triumphed in 3rd doubles and won 6-4. With this close loss, the Lady Dragons traveled to University of Delaware with the men on April 10.
The women's tennis team won versus Blue Hens 4-1, improving their overall season score 13-5, and 2-3 in the Colonial Athletic Conference.  Clary Rodriguez Cruz was the only singles player who lost in her match, with a score of 6-2, 6-1. Honami Yazawa played the no. 1 singles spot and won in 2 sets; 6-3, 6-1. Kendra Bunch, the sophomore, won in a 3 set match, dropping the first set 6-2 and winning the next two; 6-1, 6-3. Lea Winkler beat her opponent with a bagel in the first set, and 6-3 in the second set. Ryshena Providence and Fiorella Coria did not get to complete their matches, Coria not starting to play her match at all. Things looked very bright on the singles side, and the doubles side got Drexel some points as well. Yazawa & Rodriguez Cruz teamed up and played the no. 1 doubles spot, but lost 6-2. Providence & Bowsher won 6-3, and Bunch & Winkler won 6-1. On April 16, the women's team will be traveling to James Madison University.
Men's tennis also played against the Blue Hens this weekend, sweeping away the win with a score of 4-0. For the year, the men's tennis team is 12-6 overall, this win makes it the 4th consecutive win against the Blue Hens. Xabier Saavedra played 1st singles for the men's and won in a very close 3 set match; 7-5, 5-7, 6-2. Saavedra teamed up with Lakshmanan for the 3rd doubles spot, but the match ended halfway and the end score was 1-0. Andrew Sinai won in the 2nd singles spot, with a score of 6-1, 6-2. Hamza Laalej played 3rd singles and won 6-4, 6-2 and also played 1st doubles alongside Daniil Ginzburg winning in a tiebreaker, 7-6(3). Sinan Orhon, Balaji Lakshmanan, and Daniil Ginzburg all had unfinished matches, with Orhon stopping at 4-2, Lakshmanan ending at 4-3 and Ginzburg stopping at 6-0. Orhon & Ashok teamed up for 2nd doubles and won with a score of 6-4.
With a good week of matches behind them, the men's team now looks ahead to play neighboring school Temple University on April 13 and James Madison University on April 16.