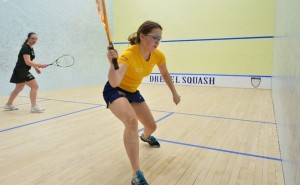 The Drexel women's squash team faced off against the William Smith College Herons Jan. 23. The Dragons crushed the Herons, sweeping their opponent 9-0. It was a complete sweep, as they won each match in three games.
The men's and women's teams went on the road and took on the Cornell University Big Red on Jan. 24 in Ithaca, New York. Both teams fell to the Big Red 7-2.
The Dragon men got wins in the two and three spots. Freshman Luke Willemse defeated Sebastian Obieta-Chichizola in sweeping fashion, winning 3-0. Michael Thompson also secured a victory for Drexel, battling it out against Harry Freeman in five games.
The Dragons dropped their matches in spots one and four through nine. Atticus Kelly, Cillian Dunne and Mark Kauf all lost their matches in four games; Nat Fry, Sebastian Dangond, Joey Gingold and Michal Jachimowicz were all swept by their Cornell opponents.
Hayley Hughes and Mary Fung-A-Fat won in the one and four spots, respectively. Both women fought hard through five games to bring Drexel victories.
Elisa Money had a strong effort in the three spot, falling in five games, 3-2, to the Big Red's Margaux Losty. The other six losses for the Dragons came in the two and the five through nine spots.
The Dragons continued their road trip, taking on the University of Rochester Yellowjackets Jan. 25. The women swept the Yellowjackets, winning 9-0. The men fell 8-1.
Gingold got the only win for Drexel, beating his opponent Meng Xiaomen in three games in the eight spot.
Kelly and Dunne both lost in four games. While the rest of the team was swept in their individual matches.
The Dragon women won every single game in the contest against the Yellowjackets. Hughes got the first win in the one spot and Courtney Sabo finished it off in the nine spot. The women completely dominated, improving their record to 6-7 on the season.
The Dragons take to the courts again when they travel to face the Middlebury College Panthers Friday, Jan. 30 and Williams College Saturday, Jan. 31.