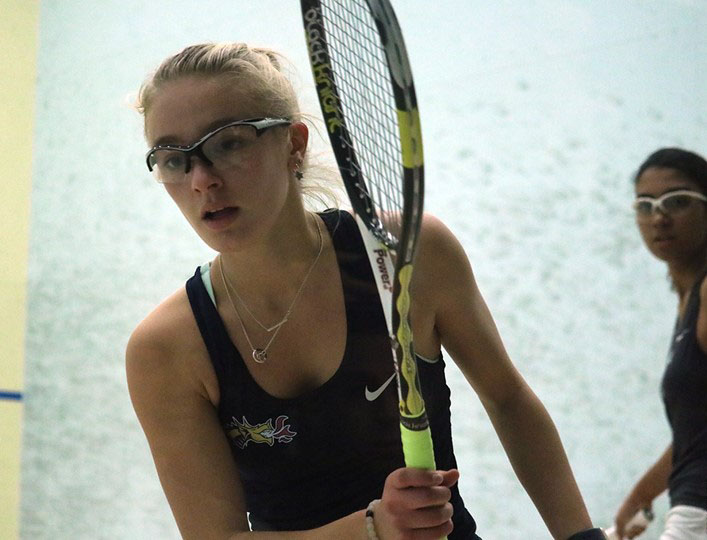 The Drexel University squash program faced a tough weekend as both teams fell to No. 3 Trinity College and No. 7 Columbia University. These results saw the men and women take a 1-3 record on the year.
The women's team started strong Nov. 18 at the Kline & Specter Squash Center against the Columbia Lions. Senior Ryan Morgan deftly took a straight games win from No. 3, Nicole Kendall, 11-9, 11-8, 11-7. Freshmen Hannah Blatt and Ona Prokes then continued their impressive winning records at Nos. 4 and 5 respectively in two closely contested matches. Unfortunately, Columbia stole the win as Apoorva Addepalli watched a two-games-to-zero lead slip from her grasp, and Mariam Kamal gutted out a five-game battle before being narrowly defeated. The match ended 6-3.
The men's team were also tested against a strong Columbia side, in a match that ended 7-2. The first of the Dragon's two wins came from No. 8, senior Cillian Dunne, who outlasted Mac Awalt in an impressive five games, 11-9, 8-11, 11-7, 9-11, 13-11. No. 9, sophomore Mostafa Abouel Makarim, quickly followed suit with a straight games win over Sambhav Anand to secure the win. While freshman Dylan Kachur did well to force five games, the Dragons would end the match on two wins.
The following day, both teams hosted the Trinity College Bantams. The women were first up, although they could only play seven matches due to injuries in the squad. Fighting hard against top-class opposition, the Dragons ultimately dropped the match 7-0. Freshman Emma MacGillivray managed to scrap to a tiebreak in the second game of the match, but in the end couldn't clinch the win. Morgan put in another solid performance at No. 2 against opponent Julia La Coq, and managed to take the first game of her match. Unfortunately, La Coq took the match in four games, and this would prove to be the single game that the Dragons would win on the day.
The men faced a similarly dominant performance in their match later that same day, where powerhouse Trinity ultimately took the 9-0 win, but not without a brawl. Drexel managed to take three games during matches on the day; the first coming from sophomore Lucas Rousselet who won the first game off Kush Kumar at No. 2 and forced a tiebreak in the second. Senior Noel Solomon and Makarim also put in huge performances to take a game in their respective matches, but the Dragons were overpowered by the top-ranked team.
Both teams will be hosting Yale University Dec. 2 and Williams College Dec. 3.