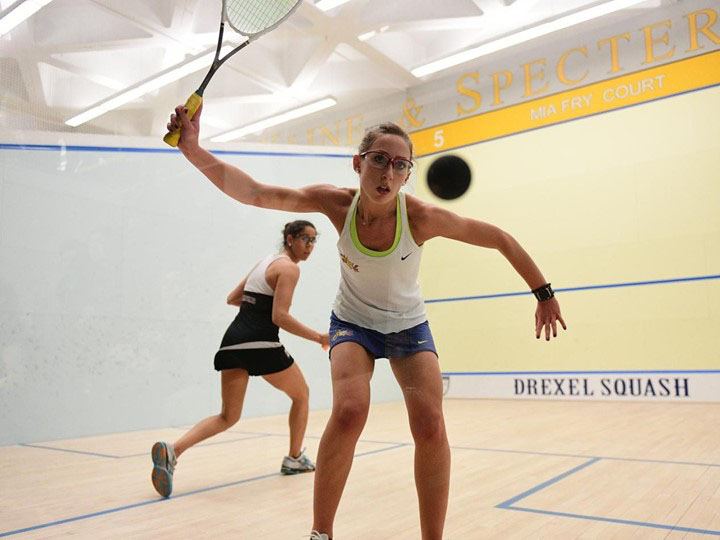 The Drexel University men's and women's squash teams opened their seasons Nov. 11, with a sweep of Dickinson College at home. Winning both of their match-ups 9-0, the Dragons did not drop a game.
The No. 9 ranked women's team were first to show off impressive skills at the Kline & Specter Squash Center, where they downed the No. 23 Red Devils in just over an hour. Strong wins from returning players were vital in the convincing 9-0 win. Senior powerhouse players Hayley Hughes and Ryan Morgan took down their respective opponents in the No. 2 and No. 3 positions, while juniors Fiona Power and Apoorva Addepalli outlasted their competition to secure wins for seeds No. 5 and 6. Five freshman took home their first career collegiate wins; Mariam Kamal (No. 1), Hannah Blatt (No. 4) and Ona Prokes (No. 6) made light work of their opponents in just three games each. Shortly after, Irish native Stephanie Ryan (No. 7) and Canadian Emma MacGillivray (No. 9), secured wins for the Dragons.
"[The win was] only the start of what looks to be a really exciting season for us," Power said.
The No. 7 ranked men's team followed suit with a matching 9-0 win to re-establish themselves as a force to be reckoned with again this season. Junior captain, Bransten Ming, started off proceedings with a dominant win over Dickinson's No. 1 seed, Abdelrahman Elsergany. After a significant shake up of the team line-up from last season, the Dragons are dealing with the change the best they can. "We're just excited to start the season optimistic with a work hard attitude," Ming said.
Sophomore Lucas Rousselet battled to win in five games against Finn Trimble while senior Atticus Kelly took the match to four games to take the win over the No. 3. Freshman Dylan Kachur took home his first career victory at No. 4 over Sergio Martin, and Nat Fry took down No. 5 Hal Holappa. Returning performers Joshua Hughes and Noel Solomon won over their opponents in three quick games, just leaving upperclassmen, Cillian Dunne and Royston Raymond, to finish up the day with wins in four games each.
The result was representative of the continued success of the Drexel squash program, where both the men's and women's sides have consistently finished their seasons ranked top ten nationally. This achievement was formally recognized in this year's CSA Preseason Team Ranking, where both teams received top rankings and special recognition. As the team with the highest percentage of international students on campus, last season the men's team finished with Egyptian native, Omar El Atmas, ranked No. 7 in the nation. El Atmas was also the first Drexel player to receive All-American recognition. Recent graduate of the Drexel squash team turned professional squash player, Mary Fung-A-Fat, was in attendance at Saturday's match-up. She was quick to praise the sides and their outstanding work ethic, as well as adding that she has no doubt this season will bring more of that same success.
Drexel University is committed to the development of collegiate squash, and regularly hosts the prestigious U.S Open Squash Championships in the Daskalakis Athletic Center. This October saw Egyptians, Nour El Tayeb and Ali Farag, crowned winners of the women's and men's championships presented by Macquarie Investment Management. The pair are also married, which attracted a huge amount of media attention following their win.
Progress of Drexel's squash teams can be followed on Dragons TV, or via event reports on the Drexel Athletics website at http://www.drexeldragons.com.