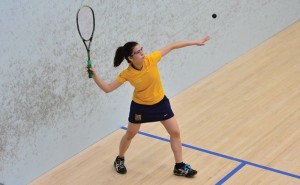 The Drexel University men's and women's squash teams were defeated Jan. 9 by the Dartmouth College Big Green at the Kline & Specter Squash Center. Dartmouth's men's team is ranked 10th in the nation, and their women's is ranked eighth.
The women's team put in a strong effort, winning four of their five matches; however, Dartmouth reclaimed victory with a 5-4 finish over the Dragons. The men were able to come out strong with wins from their top two spots but could not secure any further wins and fell 7-2. Both teams fell to an overall 0-4 record on the season.
Freshman Hayley Hughes opened the competition, sweeping her opponent Jacqueline Barnes and winning the match 3-0. Hughes was followed by freshman Ryan Morgan in the second spot. Morgan defeated junior Tori Dewey in four games, dropping the first but securing wins in games two, three and four. Sophomore Elisa Money was able to win a third consecutive match for the Dragons, winning out in four games for her first win of the season. Drexel's fourth win came in the fifth spot when sophomore Mary Fung-A-Fat defeated senior Sarah Caughey.
Junior Kaitlyn Money and freshman Abigail Kaplan fell in their matches after winning the opening game of the set. Dragons Laura Rahauser, Kiran Vasudevan and Courtney Sabo were swept in their matches in the sixth, seventh and ninth spots.
The men's team got off to an impressive start, with victories from the top two players. Freshman Luke Willemse defeated sophomore Nicholas Harrington in five games. Freshman Atticus Kelly followed, sweeping junior Alexander Greer.
After the first two matches, the Dragons were unable to secure another win. In the third spot, Michael Thompson fell to Dartmouth's Alvin Heumann in five games after winning the first two. The Dragons also dropped matches four through nine, only winning one game in those sets.
The No. 14 ranked women faced off against Trinity College Jan. 13 at the Kline and Specter Squash Center. The Dragons were swept by the No. 2 ranked Bantums. The women drop to a 0-5 record overall.
Drexel was only able to win two games throughout the entire competition. Sophomore Elisa Money and senior Vasudevan won the opening game of their sets in the third and seventh spots, respectively. Money won her first game 11-9, but was then bested by Bantum Anna Kimberley. Vasudevan won her first game 11-9 then dropped the next three to opponent Natalie Babjukova.
The Drexel men's and women's squash teams return to action this weekend, Jan. 17-18 in South Headley, Massachusetts for the Pioneer Valley Invitational.