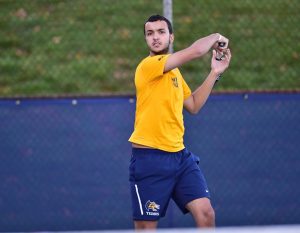 The Drexel University men's and women's tennis teams ended their season this week in the Colonial Athletic Association Championship Tournament. The men's team had one of their best seasons in school history, finishing 13-8 overall— a new team record. It was seeded fifth at the CAA Championship tournament and played against the College of William and Mary, seeded fourth. Drexel lost to William and Mary 4-0.
Senior Xabier Saavedra played his final tennis match as a Drexel Dragon that day. He played first singles against sophomore Christian Cargill from William and Mary and lost his final match with a score of 6-1, 6-4. Saavedra had a great run during his time on the men's tennis team and made history by becoming the second male tennis player to win 50 games in his time at Drexel.
Freshman Andrew Sinai concluded his debut tennis season at Drexel by playing in the second singles spot. He lost his match 6-3, 6-4.
Alongside Sinai, freshman Sinan Orhon finished his first season as Drexel's team leader with 20 wins over the course of the season. Unfortunately, his otherwise excellent season came to an end in a loss to William and Mary sophomore Alec Miller with a score of 6-2, 6-2.
Sophomore Hamza Laalej took his opponent to three sets in the fourth singles match but fell 6-3, 3-6, 6-2.  
Sophomores Balaji Lakshmanan and Kashyap Ashok both ended the day with unfinished matches. Lakshmanan's ended 6-6 and Ashok's ended 6-1, 1-0.
With Saavedra leaving the Dragons this year, Youssef Lahlou, a recruit from Casablanca, Morocco will be joining the Dragons next year. The 17-year-old is a three-time Moroccan champion, the fifth ranked U16 player in Africa and two-time Nike Junior tour participant.
The women's team's overall record for the season was 13-7.
The women were seeded seventh in the tournament and lost 4-1 against Elon University, seeded second.
Drexel junior Honami Yazawa played in the first singles match and took her opponent to 3 sets, but the match was unfinished and ended with an overall score of 6-3, 5-7, 5-3 favoring Yazawa.
Sophomore Clary Rodriguez Cruz played second singles and lost 6-1, 6-1 to Elon sophomore Erica Braschi.
Dragon sophomore Kendra Bunch won her third singles match 3-6, 6-4, 6-1. Bunch was the only player from either Drexel team to outright win a match at the CAA Championship.
Playing in the sixth singles match, junior Fiorella Coria won the first set but dropped the next two, losing 4-6, 6-2, 6-1.
Sophomore Ryshena Providence played a close first set in the fourth singles match, but was unable clinch the set. She also lost the second set, as well as the match, with a final score of 7-5, 6-3.
Junior Lea Winkler played a good match at number five singles but lost 6-4, 6-2.
The women's team has no seniors this season, so it will not lose any players to graduation. The team's incoming Moroccan recruit, Ghati Benhadi has a colorful resume. She was ranked first in Morocco, won the Moroccan U18 title, and won the U12 title twice. She has reached a career ranking of 401.