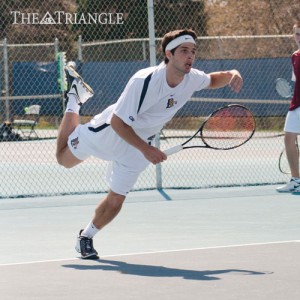 The men's tennis team had a strong season opening at the St. Joseph's Invitational and hope that they can bring some of that momentum to the highly competitive ITA Championships next week. When the team travels to Ithaca, N.Y. Oct. 13 with some of their best talent, they will try to show the competition that they are a solid tennis team.
"Nikoloz Kurdadze won his opening round last year and is looking to go even deeper into the draw this year," head coach Tricia Udicious said. "In the doubles we are looking toward the teams of Skyler Davis and Badr Ouabdelmoumen along with seniors Bryan Nguyen and Kurdadze to have a good showing."
Udicious knows that the ITAs will be a test for the team. The Dragons must look to improve from last week's performance and continue to prove to themselves that they are no match for their competitors. To compete, Drexel will be looking at a new face to lead the way.
"The ITAs is a tournament for only the top players in the region, and I believe newcomer Badr Ouabdelmoumen has a chance to make an immediate impact in our region," Udicious said. "He has been playing well and has the talent to surprise some of the more experienced competitors."
But for a team to have success they will need contributions from everyone, and that means there are players who need to improve upon their performances from last year.
In order to meet the expectations the team has for themselves, the ability to perform in high-pressure situations is a must. Tennis matches can be a battle, and the team knows that one mistake can turn the match around for the worst.
"We need to play loose and with the confidence that we belong in that exclusive group," Udicious said.
The fall season is not very long, so the team knows that they need to pick up momentum now and adjust to changes quickly. The team has made adjustments since last year and is taking time, but with the ITAs approaching, the team knows it is time to focus.
"We are still tinkering with our doubles teams so all our players are playing with different partners than last year, so it takes a while to gel as a team, and with each practice we are hoping the chemistry continues to get stronger," Udicious said.
Improvement is the theme for this team. They want to continue to grow as a team and get better as the season approaches. Tennis is as much about mental strength as it is physical, and there is no doubt that the Dragons will succeed in both.