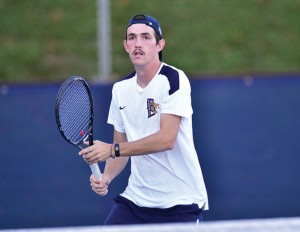 Drexel University had a lot of tennis matches this past week, with the men's tennis team playing two matches and the women's team playing one match against Colgate University.
The first match for the men's team was against Monmouth University Feb. 24. They suffered a detrimental loss, marking their second loss of the season. The overall score came out to be 5-1 against the Hawks, making Drexel's season record 7-2.
The only singles win came from freshman Sinan Orhon at the No.5 singles spot. His match went to a nail-biting three sets, with Orhon losing the first set 2-6, and then changing the game around with winning the next two sets 6-4, 6-0. Two other singles matches ended up going to three sets but not falling in favor of the dragons.
Freshman Andrew Sinai lost his first set 6-3, but then ended up gaining momentum in the second set, 6-4 but then losing it with losing the third set 6-4. Hamza Laalej, a sophomore, faced the same fate as Sinai. Laalej lost the first set, 6-4, but then won the second set in a tiebreaker, but then losing the third set with almost a bagel score; 6-1. Xabier Saavedra played the No.1 singles spot, losing his match in two sets 6-2 and 6-2. Balaji Lakshmanan, the sophomore also lost his match 6-3 and 6-2; and Kashyap Ashok lost as well with a score of 6-4 and 6-3.
There were no doubles matches played for this match, but the Hawks won over the Dragons with an overall match score of 5-1.
On the bright side, Hamza Laalej and Balaji Lakshmanan were named the Colonial Athletic Association Doubles Performer of the Week. They have played together numerous times, and have succeeded greatly. This is Lakshmanan's second time winning this honor, and the first one for Laalej.
With a tough loss against Monmouth University, the men traveled to Colgate University. Another loss was in store for them, losing to the Raiders in a tough 4-3 match. With two consecutive losses this week, the overall score for the men's tennis team is now 7-3. Andrew Sinai lost in the number one singles spot, 6-1, 6-2 with Xabier Saavedra winning in a tough three set match, 1-6, 6-3 and 6-3. Both played third doubles together but lost to the Raiders with a score of 6-4.
Lakshmanan lost in a difficult 3 set match with taking the first set 7-5, but then losing 4-6 and 4-6 in the next two sets. Hamza Laalej won his singles match and No.4 spot 6-4 and 6-2. Both of them played the number one doubles match and failed to win against the opposing team in a tough tiebreaker with a score of 7-6.
Orhon yet again won his singles match with a score of 6-3, 7-6 (8). Vuk Subotic lost his singles match in a three set, losing 6-3, 2-6 and 6-2. Orhon and Ashok played the No.2 doubles spot and won their match 6-2. With all the matches complete, the dragons lost 4-3.
With things looking not so good for the men's team, things looked very bright for the lady dragons. The Drexel women's tennis team swept away all the matches against Colgate University with an overall match score of 7-0, making their season record 7-2.
Clary Rodriguez Cruz won her singles match 6-4, 7-5 with the No.2 singles player, Erin Bowsher also winning 6-2, 6-1. Bowsher and Ryshena Providence played at the No.3 doubles spot winning 6-2.
Providence, a sophomore, won her singles match 6-2 and 6-1.
Lea Winkler won in 2 bagel sets, and also won her doubles match with Kendra Bunch with a score of 6-1. Kendra Bunch won her singles match 6-1, and a bagel in the second set. Yazawa and Cruz had an automatic default in their doubles match.
Following the great match for the women, they will next be seen against Wagner University March 5 at the Drexel Armory, and against the New Jersey Institute of Techonology Sunday, March 6 in Newark, New Jersey. The men will play versus the same teams.