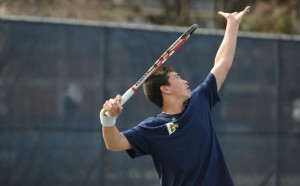 The Drexel University men's tennis team traveled to face University of Maryland, Baltimore County without first choice senior Badr Ouabdelmoumen, who suffered an injury the previous week against Lehigh University. Head coach Mehdi Rhazali emphasized the loss of such a player. "Badr has a record of 16-6 at No. 1 last year, and this year he is at 7-3 record. He has won many CAA awards. When you have a player with these results it makes him a threat for other teams, and it also helps with the depth of our team's line-up. We were challenged this past weekend, and it did affect our confidence and focus levels. We are practicing smart and with more purpose, the players are doing much better and looking forward to the Villanova match on Friday," he said.
The men's team lost their first singles match when Xabier Saavedra lost in 6-2 straight sets. Things snowballed from there as Kashyap Ashok and Hamza Laalej also lost in straight sets as well. The singles matches effectively guaranteed a loss for the Dragons, now down 3-0. In the doubles games, the Dragons got off to the wrong start as Alex Fiorvante and Xabier Saavedra lost 6-3.
The team would get shut out in the game against UMBC, losing 4-0. The loss downs them to 7-3 and strengthens their home and away parity where they're a perfect 6-0 at home but only 1-3 on the road.
The women's team in the meantime throttled UMBC in their game, 5-2. After splitting the first two singles matches, UMBC captured the third match and the lead when freshman Clary Rodriguez Cruz lost in three sets. Sophomore Lea Winkler returned the favor as she then won in three sets, winning the last set in a 6-0 shut out. With the game tied 2-2, the Dragons would see freshman Ryshena Providence and Kendra Bunch win their singles matches in straight sets.
With those wins, the Dragons were put up 4-2 heading into the doubles games. In the first doubles game, Nicole Pivonka and Clary Rodriguez Cruz picked up the win after winning 6-2. The Dragons captured the doubles point when Winkler and Bunch won 6-4. With the win, the women's team extended their perfect record at 8-0.
Both teams will return to the legacy center when they will go up against Villanova, Friday Feb. 20. The women will attempt to match their best start since the 2008-2009 campaign, where they won nine straight.