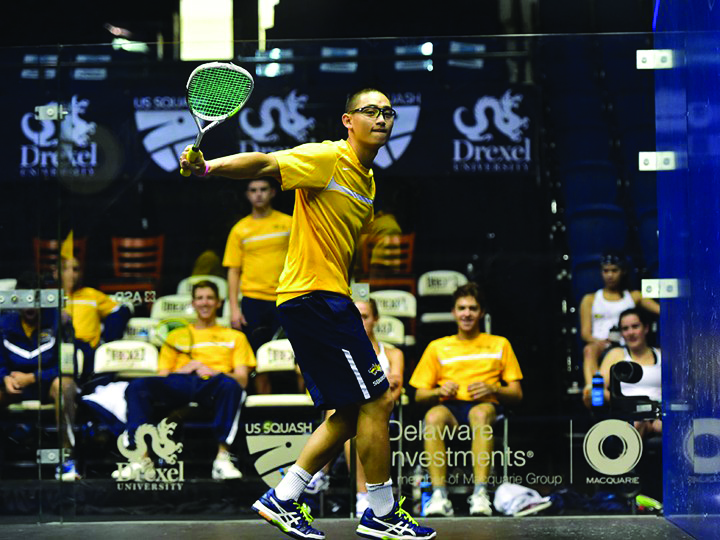 The Drexel University men's squash team opened their 2016-17 season in Lancaster, Pennsylvania. The No.9 ranked Dragons defeated the No.13 ranked Franklin & Marshall College Diplomats 9-0 Nov. 15.
Sophomore Bransten Ming led the Dragons in the first spot for Drexel. He dropped his first match, 6-11, but came back to win 3-2.
In the No.2 spot, Omar El Atmas beat his opponent, 11-7, 9-11, 11-9, 11-5.
Drexel freshman, Lucas Rousselet, stepped up in the third spot and swept Franklin & Marshall's Shams Abbas.
Senior Michael Thompson, junior Luke Willemse, and junior Cillian Dunne each swept their opponent in three games in the fourth, fifth, and ninth spot respectively.
Two new team members, junior Joshua Hughes and freshman Mostafa Aboul Makarim, along with junior Noel Solomon earned wins to finish a complete sweep for the Dragons.
The Drexel women also opened their regular season Nov. 15 in Lancaster against the Diplomats. The No. 14 ranked Diplomats swept the No. 10 ranked Dragons 9-0.
Junior Ryan Morgan, sophomore Kathryn Bottger, senior Kristine Giltvedt and junior Jennifer White were all swept in three games by their Franklin & Marshall opponents in the first, fifth, eighth and ninth spot respectively.
 
In the No.2, No. 3 and No. 7 spots, senior Mary Fung-A-Fat, sophomore Fiona Power and senior Kaitlyn Money dropped their sets in four matches.
Sophomore Apoorva Addepalli fought hard through five games and lost in a tough defeat. Addepalli dropped the first two games then came back to tie it and lost in the fifth game 20-18.
Senior Maria Diagama also lost in a tough five game set in the sixth spot.
The men's team won its second match 7-2 against the United States Naval Academy Nov. 16.