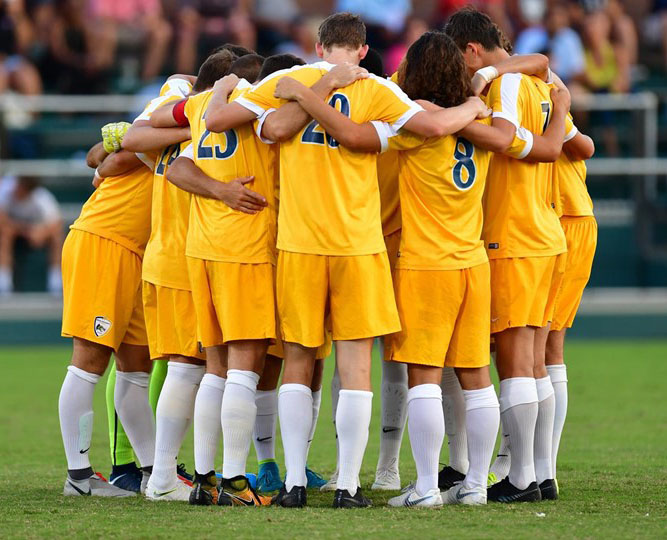 After a challenging 2017 season that saw the Drexel University men's soccer team finish with a 2-14 record, the future may have looked bleak. However, since the start of the 2018 season, the Dragons have been firing on all cylinders, and have played well enough to earn a record of 6-2-1 so far.
The Dragons have been led by senior Mathias Ebbesen who has a team high seven goals so far this season, as well as redshirt freshman goalie Stephen Kopsachilis who has allowed just .96 goals per game. Kopsachilis has had three shutouts on the year as well.
Drexel hosted Elon University Sept. 20 in a thrilling game. After a defensive stalemate for the first 25 minutes that saw stellar play from the entire Dragons' back line, the team finally broke through as sophomore Laolu Daranijo scored a goal for the Dragons in the 24th minute. Unfortunately, Elon was quick to respond as sophomore Nick Adamczyk scored five minutes later to tie the game.
In the second half, junior Francisco de Palma broke the tie after scoring his first goal of the season with the assist from freshman Chris Donovan. Just when Drexel got the advantage, Elon bounced back in the 70th minute after junior Amir Berkane made his penalty kick.
The game would then go into overtime after neither team was able to find the net again. Just three minutes into overtime Ebbesen got tripped resulting in a penalty kick which he nailed for his seventh goal of the season giving the Dragons the win.
The Dragons traveled to Hempstead, New York, to play against Hofstra University Sept. 26. Hofstra's back line was too much for Drexel as they only managed to get two out of their seven shots on goal. Despite having four saves on the day, Kopsachilis gave up a goal to Hofstra senior Marcus Lindqvist. Drexel lost to Hofstra with a final score of 1-0.
The next game for the Dragons is against the College of Charleston Sept. 29. This will be their fourth Colonial Athletic Association conference game this season. Through the first three games, the Dragons are 1-2 in CAA play and will need to keep defeating the teams in the CAA if they want a chance to make the conference championships.