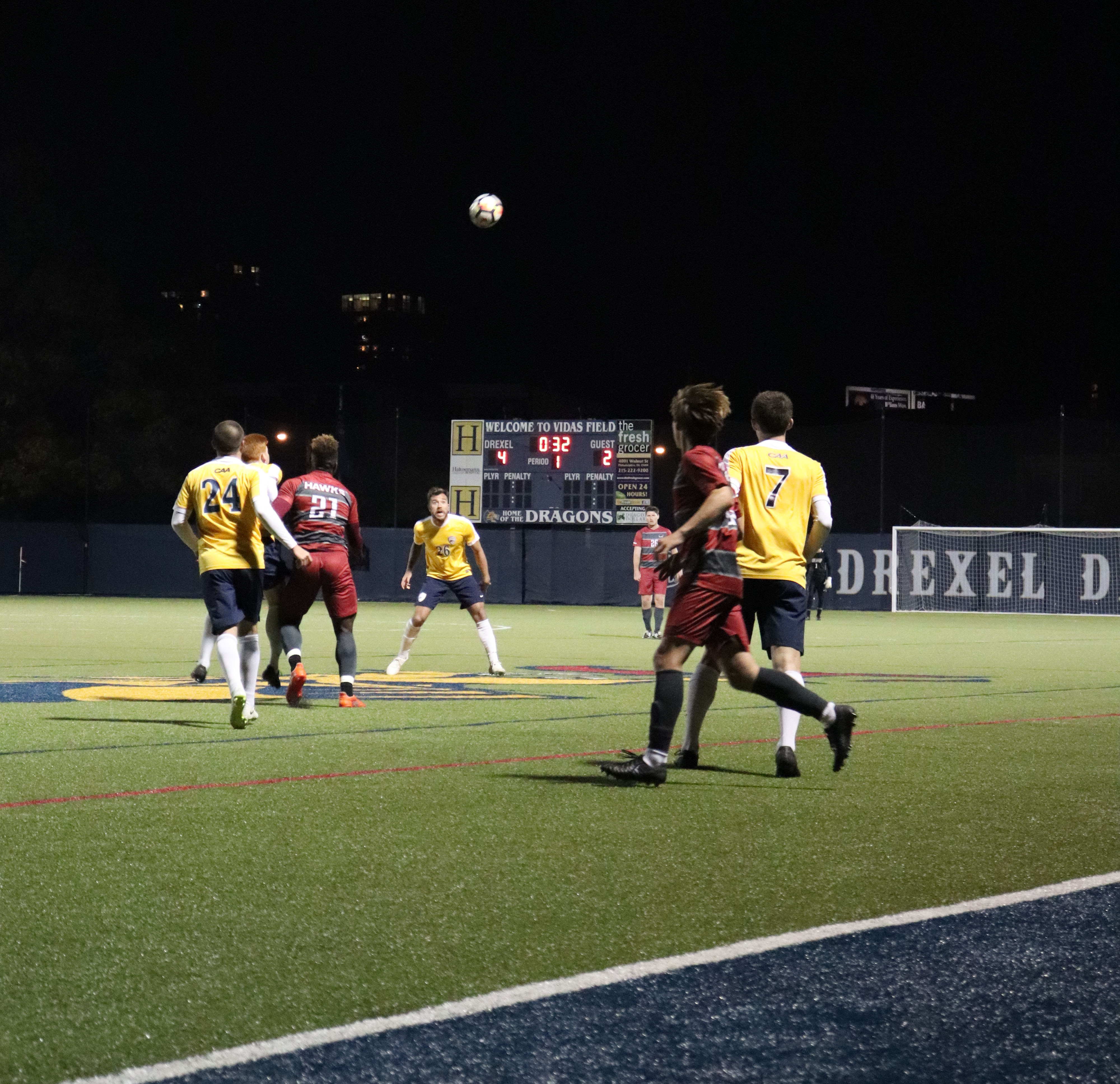 The Drexel University men's soccer team traveled to Williamsburg, Virginia, Oct. 20 to play the College of William & Mary in a Colonial Athletic Association conference game. The Dragons entered the game holding a tie with Northeastern University for fifth place in the conference, and leading William & Mary by two points.
Redshirt junior Cole Smith scored the game's first goal in the 27th minute, giving William & Mary a 1-0 lead. Drexel answered back in the 37th minute when junior Kwesi Allen scored his fourth goal of the year. The goal was a header off a free kick from sophomore Neil Boyal. In response, William & Mary's redshirt senior Graham Guidry scored in the 44th minute, which ended up being the game winner.
Drexel was unable to tie the game in the second half. The Dragons got outshot 20-8 and were called offsides three times. The loss put Drexel in a tiebreaker for sixth place and the final playoff spot. Drexel is not guaranteed to make the playoffs as they will now have to wait and hope that they get a bid.
In their final game of the regular season the Dragons hosted Saints Joseph's University for the Soccer Six co-championship. Leon Maric scored in the eighth minute on a penalty kick to give the Hawks the lead. Sophomore Ritchie Barry extended the lead for St. Joes in the 15th minute after scoring off a rebound. Just 50 seconds later, Drexel freshman Joey Martini made a cross to the box that landed at the foot of Boyal for the first goal of his college career. Sophomore Laolu Daranijo tied the game in the 21st minute by scoring an upper-90 shot from 30 yards out.
Senior Mathias Ebbesen continued Drexel's onslaught of goals after he booted his in for his eighth goal of the year to give the Dragons a 3-2 lead. It only took the Dragons 20 minutes to score again after graduate student Griffin Mallas finished a beautiful assist by Ebbesen. Drexel scored an unbelievable four goals in the first half, which is all they needed to get the victory. It was the first time Drexel scored four times in the first half since Oct. 6, 2010, against George Mason University.
The win gave Drexel a record of 9-5-3 on the season. While the regular season is over Drexel will have to wait and see if they get in the CAA playoffs. In order for that to happen, Northeastern University needs to lose its final two games, the College of Charleston must earn less than two points in their final two games, and Elon University needs to win a game.