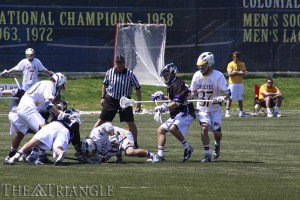 A week after being named to the All-Colonial Athletic Association First Team, the Drexel men's lacrosse team trio that head coach Brian Voelker called the "1-2-3 punch" moved on to the offseason lifestyle.
Senior attack Robert Church appeared in the Daskalakis Athletic Center with some scrapes across his face and a cut on his nose; "tackle football in the park" was the cause.
Junior midfielder Ben McIntosh accompanied Church with a backward cap restraining his hair that he had grown out all season long. As longtime teammates and friends from Coquitlam, British Columbia, the two have been inseparable on and off the field for years.
Meanwhile, sophomore Ryan Belka was also supposed to make an appearance, but the midfielder from Crofton, Md., got stuck in traffic on his way back to Philadelphia after a trip home for the weekend.
Conference accolades were given May 2, the day after the Dragons fell to Towson University 11-8 in the semifinals of the CAA Tournament in State College, Pa. Even though the three individual plaques will be on display, they would have looked a lot better next to a CAA Championship trophy.
"It feels good," Church said about being named to the All-CAA First Team. "Obviously not as good as winning the CAA [would have been], but I guess it's a good consolation prize."
Church, along with Belka and McIntosh, represented half the offensive positions on the All-CAA First Team, which was fitting because the Dragons' offense was so potent this season. Drexel led the CAA by scoring an average of 12.13 goals per game, including 11.67 goals per game in conference play.
"It definitely means we were able to put up some great numbers this year," McIntosh said, although his answer quickly turned to a realization about his partner in crime. "[But] losing Church is [going to] hurt us on offense because he was probably our best guy. … Now we [have to] fill that hole."
The realization of separation was mutual, as just hours after the Dragons' season-ending loss to Towson, Church tweeted, "One of the toughest parts about that loss is that it's probably the last competitive game ill [sic] ever play with [McIntosh] #bestbuddy."
Both were among the top five scorers in the CAA this season. Church finished his senior campaign with 33 goals and 24 assists for 57 total points, and McIntosh fell just short of his teammate with 56 total points on 38 goals and 18 assists.
Even though the pair showed consistency and explosiveness throughout the season, they were not surprised when Austin Kaut, The Pennsylvania State University's junior goalie, was named CAA Player of the Year.
"I [kind of] figured it would be Kaut from Penn State," Church said. "He's been like the best goalie in the nation all year, … so he was very deserving of it."
After being named CAA Rookie of the Year last season and All-CAA First Team last week as a sophomore, it would make sense for Belka to be somewhere in the CAA Player of the Year discussion next season.
The midfielder finished seventh in the conference in scoring with 27 goals and 17 assists for a total of 44 points and was the only second-year player to be among the select few on the All-CAA First Team. Belka said he expects to build on his performance this season and build up his all-around game going into his third year in the Blue and Gold.
"As I move forward in my career, I hope to improve on the obvious and get bigger, stronger and faster," Belka said. "From a team perspective, I want to become more of a leader vocally on and off the field to accomplish our goals of winning a CAA championship and [earning an] NCAA berth."
Along with McIntosh, freshman attack Frank Fusco and junior attack Nick Trizano, Belka will return to head the potent Drexel offense next season. But with the departure of Church, along with senior midfielder Aaron Prosser, there are some voids in the starting lineup that could be filled by fresh faces.
"I think Hank Brown could definitely step up and put up some numbers," McIntosh said. "Redshirt freshman Cole Shafer could [as well]; he's probably [going to] be stepping in for Church's spot."
And guess what? Shafer is also from Coquitlam! He will continue the legacy of the Dragons' British Columbian pipeline that Ben's brother Garrett McIntosh, a senior midfielder, began in University City five years ago. Meanwhile, it is time for Church to move on with his career, which he will attempt to continue at the professional level.
"I'm trying to play pro in the [National Lacrosse League], which is the indoor [lacrosse] league," he explained. In addition, Church will graduate with a degree in sport management in June that will help him "hopefully find a job in sports somewhere along the line."
The future may turn into any number of outcomes for Church and for Voelker's program, which is still looking for its first-ever NCAA Tournament bid. But one thing is for certain: this season was a special one.
"The coaches have said that this team has been the closest family they've ever coached, and I think that attributes directly to the seniors and captains," Belka said. "[They] were the guys who brought it every day and set an example of what Drexel lacrosse is all about."