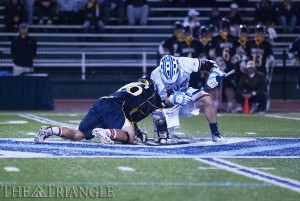 Some call it crunch time, some call it winning time, and some might call it something else entirely. Whatever you want to call it, the Drexel men's lacrosse team does not care, because the Dragons are too busy taking care of business.
After yet another comeback victory, a 14-11 win April 20 over Towson University, Drexel has clinched the No. 2 seed in the Colonial Athletic Association tournament and will play the third-seeded Tigers again in the first round May 1. The tournament, which also includes host The Pennsylvania State University and a fourth-seeded team that has yet to be determined, will culminate with the championship game May 3 in State College, Pa.
Despite the win over Towson, the Dragons stayed put at No. 17 in both of the national men's lacrosse polls. Drexel is 6-1 in its last seven games and 10-3 overall, but the team has not recorded a signature win to be catapulted into the top 10.
Drexel now controls its own destiny. A win against Towson will put the team on the NCAA Tournament at-large bubble, and another win will clinch an automatic bid.
As they sat in second place in the CAA and looked up at Penn State, a team that has not lost since March 9, the Dragons needed a win in their final CAA game of the season to clinch the No. 2 seed in the conference. In came the Tigers, a team from the collegiate lacrosse hotbed of Maryland, to challenge Drexel at Vidas Field.
Towson struck early. With three quick scores by CAA goal-scoring leader Thomas DeNapoli, the Dragons found themselves in an early hole, down 3-0 just 11:42 into the game. Slowly but surely, things started to come together for the home team. Sophomore midfielder Ryan Belka recorded a first-half hat trick, including a goal nine seconds before the buzzer, and Drexel went into the half tied 5-5 with the Tigers.
The second half began slowly, with both teams unable to tally any scores through the first five minutes of the third quarter. But with one flick of the wrist by senior attack Robert Church at the 9:36 mark, the Dragons began their patented second-half onslaught. Over the next five minutes, Drexel went on an 8-0 run to take a commanding 13-5 lead on a stunned Tigers team.
"I keep saying, 'If we knew how this works, we would turn it on earlier,'" head coach Brian Voelker said. "Early in the game, [Towson's] goalie made some big saves, but I think our kids just started playing better, and we took care of the ball."
Towson showed great resilience, however, as the visitors stormed back with six straight tallies of their own to creep within two goals with 6:57 remaining in the game. But then Church fed Belka for his fourth goal of the game, which rounded out the scoring and clinched a 14-11 win in favor of the Dragons.
Junior Ben McIntosh continued to hold his own on the scoresheet, as the midfielder from Coquitlam, British Columbia, recorded two goals and two assists. Church tied a season high with seven points on the day, four goals and three assists.
"[Ben and I] have both always been great offensive players … and we are just happy and proud of one another," Church said. "We push each other to be better every day and just enjoy being on the field together."
Meanwhile, the Tigers' DeNapoli accounted for six of his team's 11 goals as well as one assist. It was a rare sight, indeed, that all three of those players ended the game tied for first in the CAA points race. Each player has 48 points with one game to go, although DeNapoli has played in one more contest than Drexel's duo.
"Robert's been a leader down in the offensive end, picking up some ground balls and getting a lot of assists for us," Voelker said. "To be honest, we've been waiting for Ben to explode; he's had some big goals in big moments. Belka's had a great year too, going from CAA Rookie of the Year to almost doubling his scoring. Those three guys have given us an incredible 1-2-3 punch."
Sophomore faceoff specialist Nick Saputo won 17 of 28 draws in the game and also added a goal and an assist to the cause. Freshman attack Chris Frederick notched a goal as he stepped in once again for injured sophomore attack Andrew Vivian. However, the game marked the first time all season in which attack Frank Fusco did not score a goal.
The Dragons' final regular-season game is at home against High Point University April 27 at 1 p.m. With a win, Drexel would cap an 8-0 home schedule and be the only NCAA Division I men's lacrosse team this season to boast an undefeated home record.
"Don't jinx us! Don't jinx us!" Voelker joked after being reminded of his team's success at Vidas Field. "We're trying to finish out the regular season strong going into the CAA playoffs. … It would be great to [have] an undefeated home record."
The Panthers come to Philadelphia with a 3-11 overall record, ranked 58th out of 63 teams in the NCAA Ratings Percentage Index. It will be difficult for the Dragons to keep from overlooking High Point, especially with the CAA Tournament semifinals on the horizon, but when it comes down to it, winning is better than losing.
"Our team has been focused all year long, so it won't be any different on Saturday," Church said. "It's a one-game season every game from here on out, and losing is not accepted."
While a victory is the top concern for Drexel against High Point, Voelker wants the team to focus on defensive efficiency and limiting mental lapses in preparation for the CAA Tournament. Because the Dragons have been consistent on offense this season, the other factors will be the key intangibles that could make the team a national title contender.