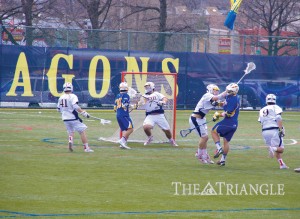 It's that time of year again where we are between seasons — snowy bleachers on a sunny day, warm temperatures with a heavy breeze — you don't know whether to wear a winter coat or a T-shirt. The one thing you do know is that it's lacrosse season, and no matter what the weather, the men's lacrosse team is ready to make its mark.
"We are going to do everything we can to win the Colonial Athletic Association conference and make the National Collegiate Athletic Association tournament," head coach Brian Voelker said. "I think last year we felt like it was a good year, but there were obviously some things we could improve on."
Some of those things include boosting the team's overall record, which was 8-2 last year, as well as its conference record, which was an even .500 with a record of 3-3 in the CAA.
After looking back on the season, Voelker believes there is one thing in particular that his team can do better.
"The bottom line is we just have to go out and work real hard," Voelker said. "I think we were a little better offensively than we thought we were going to be last year, and defensively we underperformed a little bit, so we are hoping to play as well on the offensive end and perform better on the defensive end [this season]."
With nine seniors returning and 11 new players joining the roster, the coaching staff has a good selection of potential position players.
The new faces include three attackmen, six midfielders and two defensemen. Cory Dobyns, Ryan Belka and Chris Frederick are joining the attackmen while James Esser, T.J. Foley, Chris Joyce, Mason Pynn, Nick Saputo and Clifton Simeon are joining the midfielders. Finally, Donald Dalton and Pat Root are the newest defensemen.
Some of these lucky novice players will earn a solid amount of playing time while others may not be as fortunate.
"I think down on the defensive end, things are definitely pretty locked in from guys that are returning from last year," Voelker said. "But the guys we really see stepping up and playing a lot as freshman are probably from the midfield — Mason Pynn, Ryan Belka, Clif Simeon and then Nick Saputo as a face-off guy. Those four are probably the young guys that will get a pretty good amount of playing time for us."
These new players can learn a thing or two from the returning players on the roster. Some of the veterans include Frank Tufano, Dana Wilber and Brian Teuber on defense, Kyle Bergman and Kevin Stockel at midfield, and heavy shooters Robert Church and Brendan Glynn on offense.
And the talent and leadership does not end there.
"We have a little bit more of a senior-driven team this year," Voelker said. "There are nine of them on the team, and I think eight of them are going to play a big role in the success of our season."
More specifically, Andrew Collins and Chris Farquhar are two seniors that have performed at a high level for the team in the past and hopefully will continue to do so in their final year as Dragons.
If you are reading this article and are even the slightest bit familiar with the men's lacrosse team, then you know that one very large piece of the roster has not been mentioned yet. That, of course, is none other than goalie Mark Manos.
This will be his final year gracing the Drexel net, and Voelker anticipates the big man will go out with a bang.
"We are expecting a big year out of Mark. In my mind, he is one of the best players in the country; he is one of the best goalies in the country," Voelker said. "He has had a good preseason, and as a coach he does everything we ask of him. He is a really good leader, he is a very talented player, and he is a hard worker, so we are expecting him to step up and have a great year."
Voelker plans on having his defensive players act as a wall for their goalie so that scoring on Drexel is a nearly impossible feat for opposing teams.
The Dragons are set to take on the University of Maryland-Baltimore Country in a scrimmage Feb. 11 at 1 p.m. at Vidas Field. Though the scrimmage is first on the team's to-do list, they can't help but focus on their big, annual season-opening match against the University of Virginia coming up just a week later.
"They are the defending national champions, so we are going to have to work really hard to come out with a win against those guys," Voelker stated. "We have had a pretty good preseason — some ups and downs, some bumps and bruises, injuries, but I think the kids are working really hard, and they are really focused on the [Virginia] game on the 18th."
With a challenging season ahead of them, it's time for the men's lacrosse team to buckle down and pull out some big wins.
And let's not forget the preseason NCAA coaches' poll, which ranks the Dragons as the No. 20 team in the nation.