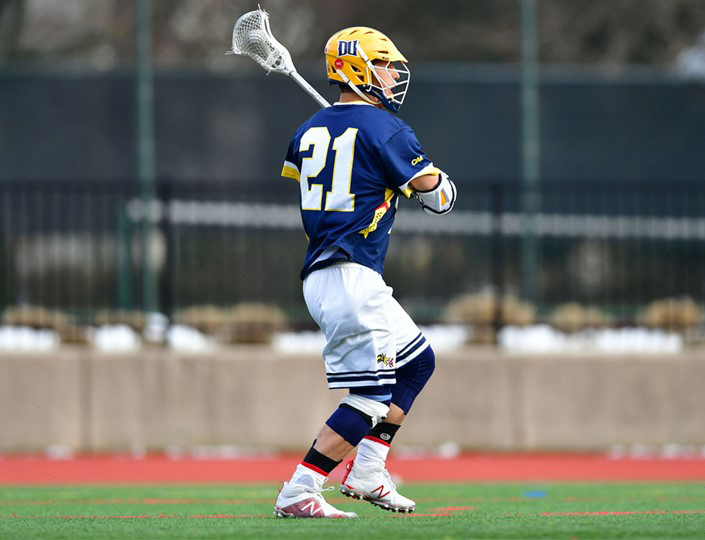 The Drexel University men's lacrosse team played their final game of the season against the University of Delaware April 27. Drexel was hoping to make an appearance in the Colonial Athletic Association championships, but their dreams were crushed as Delaware won by a score of 17-8. The loss snapped Drexel's seven-game winning streak against Delaware. The win put Delaware into the CAA championships for the first time since 2014.
Leading Drexel in goals was sophomore Reid Bowering, who had a hat trick for the 10th time in his career. Bowering finished the season with a team high 31 goals. Despite the strong performance from Bowering, Drexel could not keep up with Delaware sophomore Charlie Kitchen who scored an impressive five goals in the game. Despite giving up 17 goals, senior Chre Teitelbaum had a solid day in the net in his final game as a Dragon with 13 saves. This year Teitelbaum had 119 saves in his lone season as the starter.
Sophomore Matthew Varian had himself a terrific season for the Dragons as he finished with 28 goals and 21 assists. In his final season as a Dragon, Marshal King contributed 11 assists to go along with 18 goals.
Despite making the playoffs last year, the Dragons finished below .500 for the second year in a row with a record of 5-8.
In order to be more successful for the upcoming season, the Dragons need to be better at not giving the ball away. This season the Dragons averaged 14 turnovers per game. Another area of improvement should be moving the ball more. The Dragons averaged only five assists per game as a team and only hit the double-digit mark once in a game against Fairfield University where they had 14 assists.
While the Dragons didn't have a winning record, there is hope for the future as the Dragons will still have star players Varian and Bowering who will both be entering their junior years.
Even though the season didn't go as well as they hoped, the Dragons should be proud as they played against tough opponents, including University at Albany, the No. 1 team in the country, and didn't back down. Playing the best teams in the country will only make them better and more experienced for the upcoming season, and hopefully they can turn these tough battles into victories.