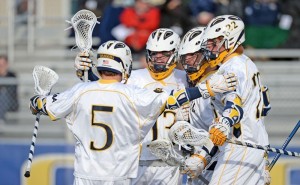 In an interview with Drexel University men's lacrosse head coach, Brian Voelker, the most telling thing he had to say dealt with the outlook coming into the season for a team riding last season's high.
"Coming into the season, we knew the team was going to be a work in progress. We were going to have a lot of new guys in new roles, and it was going to be a process of finding the right combinations and finding ways to put guys in their preferred position. It was never going to be easy."
That process has not been easy, and the beginning of the season has shown the flaws Voelker saw in his team before the year.
They've been inconsistent on defense, less than overwhelming on offense and the goalie play has been lacking. Through five games, Voelker has tried three different goalies and has played more players than he ever has before this early in the season. The growing process has resulted in a 1-4 record through five games. The team has played tough competition but that's not the whole story to their woes.
Against the University of Maryland Feb. 28, things might have been at their worst for the young team.
Once again, the Dragons started the game hot, pulling out to a 2-0 lead following goals by Joseph Rainoldi and Mitch de Snoo. They held off Maryland's offense for most of the first, only allowing a man-up goal to Matt Rambo with 3:02 remaining in the quarter.
From there, it was all Maryland, as Drexel's offense completely disappeared. The Dragons were unable to score a goal again until Jake Gonzalez scored with 1:10 remaining in the game. They went a total of 56 minutes and 17 seconds without scoring.
Between Dragons goals, the Terps managed to net 12 goals, and the game was over. The final score was 12-3, and the Dragons fell to 0-4.
Coach Voelker described the team's struggles with defense.
"We've struggled to be consistent. We've been making silly mistakes. We've had bad communication on defense. Our guys are inexperienced and we haven't quite found the right mix of players to be solid on that end. I think we're moving in the right direction, we're just not there yet."
In their next game against Saint Joseph's University March 3, the team seemed to show their first solid step in the right direction and managed to capture their first victory of the year.
The Dragons kind of "flipped the script" against the Hawks, dominating through most of the first three quarters, resembling what Maryland did to them just days before.
St. Joe's actually got on the board first, and in a hurry. They scored nine seconds into the game on a goal from Danny Manning, but that would be just about it for their offensive output until later in the game.
Over the first half, the Hawks would only score one more goal, while the Dragons would net 10. At halftime, Drexel held on to a 10-2 lead, and would never relinquish it.
Despite a late run by Saint Joe's, the Dragons won the game 11-7 to finally get their first win.
Interestingly, this was the first start for Loyola University Maryland transfer Jimmy Joe Granito in goal, and he impressed in his premiere.
With their first victory, Voelker and his staff are going to continue trying to switch up lineups to find the perfect fit going forward.
"We told everyone they have to step on the field and fight for playing time. We've been experimenting more than normal, and we're starting to settle in on good combinations, and there are plenty of opportunities for guys without playing time to step in and make an impact."
The Dragons will hope to keep rolling against Bryant University March 7 at Vidas Field.