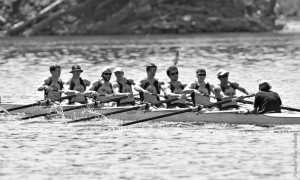 The Drexel University crew team will compete in its final outing of the season May 29-31, as the men's team will head to Mercer Lake in West Windsor, New Jersey, to compete in the Intercollegiate Rowing Association's National Championships.
With a name like that, this regatta is nothing short of a big deal.
IRA Nationals have been one of the Dragons' biggest goals since the beginning of the fall crew season, something they set their eyes on early to prepare for.
Last year, Drexel sent six boats to the regatta, and all six of the competing boats finished in top 20 spots. Overall, the Dragons finished 19th as a team. In last year's competition, an especially notable finish came from the freshman eight boat, which finished in 10th place at the prestigious qualifying-only regatta.
This year, all Dragon racers hope to compete at the same elite level, once again racing against some of the best competition nationwide.
Other competitors hitting the water alongside Drexel include programs like Cornell University, Northeastern University, Princeton University and Dartmouth University.
Coming off their successful outing at the Aberdeen Dad Vail Regatta, the Dragons will be coming into the race will a good amount of success under their belts. The men's second varsity eight and freshman eight boats took gold medals, the varsity four took silver, and the varsity eight and freshman four took bronze medals.
This year, Drexel will only send five boats to Mercer Lake to represent the Dragon rowing team. The boats racing are the first, second and third varsity eight boats, the freshman eight, and the varsity four.
First heats for the boats racing begin Friday, May 29, and boats that advance will continue to compete through Saturday and Sunday for final competitions. Races for the Dragons will kick off at 8:45 a.m. on Friday, with the varsity eight leading off the morning.
This will be the last race of the season for the Dragons, and for the seniors, the last races of their careers. The team will especially miss the leadership of current senior captains Marko Durica, Brian McCabe and Grigorios Papadourakis.
With the hard work, dedication and leadership they have devoted to the team, the seniors — and the rest of the Dragons — hope to find the same success that they achieved at nationals last year.
IRA Nationals begin May 29 and will close with final placing May 31.