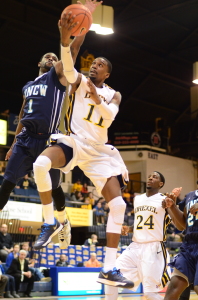 There were flashes of possibility, but in the end, it was for naught.
Junior guard Damion Lee struggled with foul trouble and the Drexel men's basketball team fell to the University of Colorado, 65-48, Friday night.
Lee managed 12 points in 29 minutes, a performance limited by picking up his fourth personal foul early in the second half.
The Buffaloes were led by forward Josh Scott, a double-digit scorer last season, led all scorers with 21 points and 11 rebounds in a dominating first game of the college basketball season. Scott dominated the paint with ease Friday night, scoring at will while shooting 8-of-11 from the field.
Junior guard Tavon Allen poured in a team-high 16 points in the losing effort.
FIRST HALF
The season began cold. Drexel missed 10 of its first 11 shots, the only make coming from senior guard Freddie Wilson, and Colorado jumped out to an 11-3 lead less than six minutes into the game.
The Buffaloes rode forward Josh Scott, who saw little resistance in the paint from sophomore forwards Mohamed Bah and Rodney Williams en route to an 11-point, seven-rebound first half.
But the Dragons refused to budge from the Coors Arena floor and they regrouped, leaning heavily on the three point shot. After beginning just 1-of-8 from behind the arc, Bruiser Flint's squad proceeded to knock down five of the next 10.
Tavon Allen came off the bench to score 11 points in the first half, carrying the Drexel offense with guard Damion Lee on the bench with two personal fouls.
Allen shot 4-of-10 in the first 20 minutes, impressing with his deadly shot and his hustle, nearly blocking Colorado's Scott before hurtling into the area behind the hoop. He was one of four Drexel players to see double-digit minutes in the first half despite starting the game on the bench.
PERFORMANCE OF THE NIGHT
Colorado forward Josh Scott finished the night with 21 points and 11 rebounds. He knocked down 8 of 11 shots and was the Buffaloes' most valuable weapon on the offensive end. Drexel had no answer for Scott in the paint, and he made the Dragons pay time and again. Scott could be one of the best big men in the Pac-12 this year.
INSIDE THE BOX SCORE
Colorado won the rebounding battle, 43-34, after trailing by one at halftime. Forwards Josh Scott and Dustin Thomas combined for 18 rebounds.
Drexel attempted 29 three pointers Friday, which accounted for 53 percent of their total field goal attempts on the night. Last year that figure was 28.8 percent.
FIRST TIME OUT
Two of Drexel's four freshmen saw ample playing time in their first career outings.
Forward Austin Williams was held scoreless, but he picked up six rebounds, two assists and two blocks while fighting through foul trouble all night long.
Point guard Rashann London, who is expected to start all season with sophomore Major Canady out for the season with an anterior crucial ligament injury, scored four points with just a single field goal attempt and no assists.
Guard Sammy Mojica, Jr., saw five minutes of playing time and scored two points. Forward Tyshawn Myles didn't see the floor.
WHAT'S NEXT?
Drexel (0-1) returns to University City Monday night to host fellow City 6 squad St. Joseph's University (0-1) at the Daskalakis Athletic Center at 7:00 p.m.
Colorado (1-0) heads home to host the University of Auburn (0-0) Tuesday morning at 12:00 a.m.