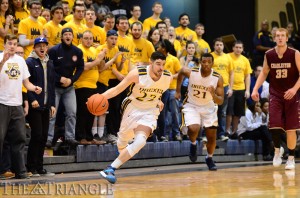 "Everything That Happens Will Happen Today" — the title of a 2008 album from David Byrne and Brian Eno, and the perfect description for the approach of the Drexel men's basketball team to the 2014 Colonial Athletic Association Tournament.
Senior guard Frantz Massenat has started 127 games for Drexel. Graduate student Chris Fouch has been playing guard for the Drexel Dragons since 2008. But if the team loses March 8 when they face Northeastern University in the quarterfinals, everything will have been for naught. The veterans' respective careers, illustrious as they've been, will end without an NCAA Tournament berth.
Nobody understands the dire nature of this do-or-die situation better than Fouch.
"All or nothing, man," Fouch said just a few days before the game. "It could be my last game, so just go out there and leave it all on the court. This is really why I came back, to try and get a CAA championship. No matter what, when we're all done with the regular season, it's kind of a new season and this is what I came for. So I've got to do what I've got to do to help my team win."
The challenge began March 1 against the Northeastern Huskies, the very team the Dragons closed their regular season against — with a loss.
Up 52-47 with 49 seconds to play, the Dragons committed a murderer's row of miscues en route to a crushing 54-52 loss sealed by three free throws by Northeastern's David Walker with six seconds to play.
Massenat missed a crucial free throw with 41 seconds to play on the front end of a one-and-one. Hitting both free throws would have, theoretically, forced overtime if the rest of the period unfolded as it did.
The senior point guard said that he and his team know they have to play better March 8 to top the Huskies, and that their mistakes will be points of emphasis in the days preceding the rematch.
"You've got to learn from it quick, because the next game is either one or done," Massenat said. "So you can't dwell on it too much, but you've also got to be prepared for next week."
Senior forward Dartaye Ruffin, who fouled Walker to put him at the line for the eventual game-winning free throws, echoed Massenat's sentiments.
"Basically, just try to not make the same mistakes we did the last game," Ruffin said before practice March 3. "We'll go over today in practice some of the things we did, and we can get better at some of the mistakes we made so that we don't make them again going further down the line."
The Huskies enter the game with an overall record of 10-20 versus Drexel's record of 16-13. The Dragons score 4.4 more points per 100 possessions and allow 2.3 fewer than Northeastern, making the Huskies — at least statistically — a favorable first-round matchup despite the late-game troubles the Dragons experienced.
"I think we match up with them pretty well," Fouch said of the Huskies. "I think [the last game] we should've won, but everything that could've [gone] wrong went wrong in the last two minutes. But they're a tough team, so we've just got to be solid, be disciplined against them and do what we need to do, and we should be coming out on top with that one."
If they advance past the first round, Drexel will play the winner of the game between No. 1 seed University of Delaware and the winner of Hofstra University vs. the University of North Carolina Wilmington March 9. After that, a theoretical championship game would likely pit Drexel against Towson University or The College of William & Mary March 10.
To make it to the NCAA Tournament, the Dragons will have to clinch the CAA's automatic bid by winning three games in three days.
Fouch, Massenat and Ruffin have been to the final day of the conference tournament before, and they know how it feels to string three wins on consecutive days.
Hard? Not when you want to go Dancing.
"It should be fun for you, to go out there and give your best effort and try to win games, because it's one and done," Fouch said. "You lose, you can't win the championship. That's the best thing about it: you know what's going to happen if you lose. Regular season, you get to play again after that. In this tournament, you lose, it's over."
The sudden-death nature of this time of the year can be a little daunting for any player, freshman or senior. The first round of tournament play can result in a bundle of nerves, experience be damned.
In last year's first-round loss versus George Mason University, the Dragons and the Patriots committed three turnovers in the first 78 seconds of the game. They finished with 30 turnovers combined.
Massenat said he and Fouch discussed how to keep the team in check under so much pressure, and they think they know the trick.
"It's a lot about getting the first one down, getting out all the nerves in the first game," Massenat said. "Then it comes to you the second game and you just start playing more natural[ly]. You've just got to be ready to go come the first game and take every one game by game."
Sounds simple enough: win the first game and it gets easier from there.
The focus then turns again to the contest starting March 8. Forty minutes to extend — or extinguish — the careers of two of the most celebrated basketball players in program history.
It's very definite. But according to these veterans of competition, it's also very inspiring.
"I know at first you get emotional, like, 'Oh man, it's coming to an end,'" Massenat said. "But as you get closer to it it's like, 'Oh man, you want to win.' You want to win so bad. It's your last go around. Who doesn't want to go out winning?"
The point guard believes his team has the right tools to win the whole thing. Chris Fouch said he agrees.
"We definitely feel that [we can win]," Fouch said with a slight grin. "We're still not all the way healthy, but we think that we have what it takes to get over the hump and win this championship."
The journey begins March 8 at 2:30 p.m. at Baltimore Arena.