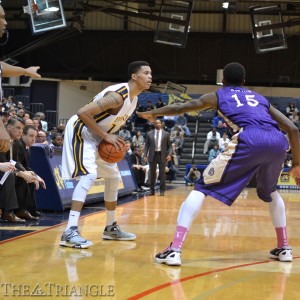 The wait is over. The Drexel men's basketball team kicks off its season Nov. 8 with a contest in Los Angeles against the University of California, Los Angeles.
The Bruins pose a serious challenge for the Dragons on opening night, as they are ranked 22nd in the Preseason Associated Press Poll and 23rd in the USA Today Coaches Poll. The Pac-12 powerhouse will bring talent unlike any that Drexel will face in the Colonial Athletic Association.
Their bigs are bigger, their guards are quicker, and their coaching pedigree — with new head coach Steve Alford beginning his time in the limelight after six unbelievable seasons with the University of New Mexico — is more illustrious.
Yet even in the national eye, this is not seen as a sure win for UCLA. ESPN's Jeff Goodman listed the matchup among the best on college basketball's opening night. CBS Insider Jon Rothstein called Drexel "a tough opener" for the Bruins, citing the abilities of Frantz Massenat, Chris Fouch and Damion Lee.
Also, with UCLA's best big man sidelined for the matchup, there is substantial evidence to say that this one is theoretically up for grabs.
UCLA senior forward Travis Wear was hospitalized with appendicitis Oct. 28. Wear, who averaged 10.9 points and 5.2 rebounds last year, is expected to be the Bruins' best post threat this season.
With Wear out, the Dragons will see a lot of guard Jordan Adams and Wear's brother, forward David Wear. With increased responsibility, the offense will flow through these two come Friday night, as well as sophomore big man Tony Parker, who, in his second year, is still a work in progress for the Bruins.
This development favors Drexel greatly. Not only do the Dragons expect to rely heavily on their guard play rather than their inside game for wins, but the lightened paint presence will also provide an easier first game for freshmen bigs Rodney Williams, Mohamed Bah and Khris Lane.
The consensus around the training facilities and among veteran players is that, of the freshmen bigs, Williams has looked the best during the last few weeks of practices. When veteran forwards Dartaye Ruffin or Kazembe Abif need to be spelled out Friday night, expect Williams to take his play time and run with it.
"Rodney Williams is showing that he can be a kid who can score the ball around the basket a little bit as a freshman," head coach James "Bruiser" Flint told Philahoops.com last week. "He will have his ups and downs as a freshman, but he's a guy that I look to and think that he can score the ball a little bit in the post."
The Bruins are still the most challenging team on Drexel's schedule this season. But with Travis Wear out, the matchup is far more enticing.
If the "big three" of Fouch, Massenat and Lee can score efficiently and match the performance of UCLA's big men, an upset win to start the season is not out of the question.
Four days later the men travel to Normal, Ill., for a showdown with the Illinois State University Redbirds for a rematch of last year's frustrating overtime loss.
Last season, the Redbirds were the highest-scoring team in the Missouri Valley Conference. But, they lost nine players from last season's squad — including all five starters — and are entering the biggest roster revamp from one year to the next in program history.
Nine of the Redbirds' 13 players are either freshmen or sophomores. There's a glaring lack of game-breaking talent on head coach Dan Muller's roster, and he isn't trying to hide the nature of this season. It's a rebuilding year for Illinois State.
If an exhibition win over Division-II Quincy College is any indication, sophomore guard Nick Zeisloft — the highest returning scorer from last season's squad, who averaged 15.2 minutes and 4.5 points per game — will head the Redbirds' offense this season.
This presents a clear-cut advantage for the Dragons' big three guards. It can also be an outlet for Flint to give new guards Freddie Wilson and Major Canady some playing time early in the season.
If the game becomes one-sided in Drexel's favor early on, getting Wilson and Canady on the court and building their confidence would be a good step. With three key guards, the Dragons should never have to go without one of the big three on the court. But trusting your backup guards is important, and it is something Drexel lacked last season.
Sure things are nonexistent in college basketball. UCLA is a very staunch first opponent, and Illinois State's Dan Muller is a great head coach. But come this time next week, Flint and his Dragons could very well be sitting at 2-0.