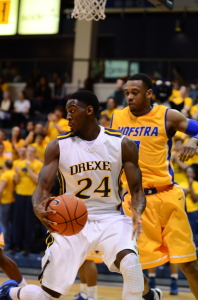 Rodney Williams will have been a sophomore for less than two months when the Drexel men's basketball season tips off in Boulder, Colorado, tonight.
But this season, because of graduations and injuries, the Richmond, Virginia native is the most experienced big man on the team.
After a strong showing in his freshman season, including being named to the year-end Colonial Athletic Association All-Rookie team, Williams is suddenly the face of the Dragons' forwards, and is going to be shouldering a lot more responsibility this year.
A month before the season begins, Williams said he wasn't necessarily ready for it.
"It definitely came fast at me," Williams said. "I was expecting [senior forward Kazembe Abif] to be kind of the leader of the bigs and I would follow behind with a little experience."
Abif, who missed decent chunks of playing time last season with a variety of injuries, tore his anterior cruciate ligament in his right knee during individual workouts in early April. He'll miss the entire 2014-15 season with the injury, which is why Williams has been thrust into the spotlight of the Dragons' front court.
Williams understands what is going to be expected of him this year, a player with big expectations and now big responsibility, and said he's ready to face the challenge head on.
"Right now I'm comfortable with that role," he said. "Being the big with the most experience, it just means that you've got to teach those guys what you know, as well as learn yourself because you're still young."
The sophomore said that head coach James "Bruiser" Flint was giving him a tough time during the spring and summer, and now during practices as the team prepares for the regular season in November. He called it tough love, though, and said he understands what Flint is doing.
Williams will face a whole new cast of challenges this season, the likes of which he has yet to endure. Flint wants to make sure the program cornerstone is ready for the strain.
"He knows that he needs me to step up, and in order for me to be ready he has to put me through certain things," Williams explained knowingly. "He puts a lot of pressure on me right now because he knows that, being the oldest big right now and that's all he has, he needs me to step up fast and in a hurry."
Last season, the then-freshman forward started slow before coming into his own in the second half of the year as more playing time presented itself.
In his first 18 games of the season, Williams averaged 3.9 points and 4.5 rebounds per game. In the final 12 games of the season he averaged 7.6 points and 5.9 rebounds per game.
Williams said that he started slow in part because he was a little timid, a new face in a new situation.
"I didn't really talk, I didn't really say anything," Williams said of his freshman year. "At the beginning of last year I was very tentative, and once the second half of the season came around and the responsibility got put on my shoulders, I stepped up in a big way."
He's hoping to take the momentum he built up in the second half of the season and translate it into success, both in his personal game and in his newfound leadership role with the team.
Williams said he's become more vocal on the court, trying to lead both by example and through vocal leadership.
"I'm saying things to different guys, getting people in the right spots," Williams explained. "I think my teammates see that, and they like it."
Last season senior forward Dartaye Ruffin took Williams under his wing, educating the young big man on the ins and outs of the college game. Williams said it was a huge part of his development as a player.
"I learned how to play the game," Williams said, of his time with Ruffin. "You think you know, coming out of high school, being one of the top players in your area. But once college sets in, this is a lot faster, there are different types of things you have to learn.
"Dartaye really took me under his wing. He taught how to actually play the game, how to play defense, how to get open on offense, that type of stuff. So I'm just going to have to carry that over from what he taught me."
This season Williams hopes to be that kind of educational force for the Dragons' new freshmen forwards, Tyshawn Myles and Austin Williams, by relaying what he experienced last season and helping them become better players.
"Knowing what I went through, I can tell them so they can evade that," Williams said. "Tell them just to play loose. Play like you played in high school, basically.
"Just stepping up and being more comfortable on the court will ultimately help them be better players, so I want to relate that to the guys and hopefully they'll have a better start than I had."
With an added leadership workload and the expectations of a big season on the horizon, Williams worked harder than he ever had this past spring and summer. He added between 12 and 15 pounds of muscle, working to make himself a stronger, more imposing force in the paint against CAA forwards like Northeastern University's Scott Eatherton.
Knowing he's going to see increased playing time, the sophomore also looked at specific parts of his game that stood to be improved, and said he'll have an expanded array of weapons come game time this season.
"I've worked on my inside-out game, little 15-foot jumpers, face-up game, things like that to make me a better player," Williams explained.
After his huge second half last season, Williams expects to make the jump from All-Rookie teams to All-Conference teams this year. He wasn't named to any preseason All-Conference teams, but he believes his offseason work is going to pay off.
"I'm feeling very confident, and that's just due to the fact that I've worked so hard in the spring and the summer," he said. "I'm expecting to be an all-league player this year. We'll see what happens, but I definitely worked very hard."
Weeks before the first tip, Williams had already begun doling out stoic wisdom, perfecting his vocal leadership. He has a rule for the freshmen, and for the rest of the team, that he believes will keep the Dragons on the right path this season.
"Don't think too much and just play," he said, "and everything should be okay."