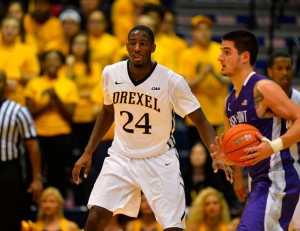 Entering the month of February, there was a tangible feeling of optimism surrounding the Drexel University men's basketball team. The week before had featured significant improvement in play for the Dragons. A pair of second half losses to both Towson and Hofstra showed glimpses of their ability to play with the Colonial Athletic Association's best. Their offense was beginning to click, led by a resurgent Tavon Allen. To top it off, the nation's most meteorologically gifted rodent predicted Tuesday that spring, the most optimistic season of all, would be arriving six weeks early this year.
Unfortunately for Drexel, many games this season have seemed like Groundhog Day, and this week was no different. Bad habits, sloppy play, inconsistent offense and poor shooting reared their ugly heads yet again, and Drexel managed to follow up one of its most positive weeks this season with one of its most discouraging to date.
Things didn't always look so bleak. James Madison, sitting at sixth place in the CAA with a 16-7 record, looked vulnerable after being outscored by 18 points in the second half in their loss to College of William & Mary. This seemed to be the perfect opportunity for the Dragons to break out of their six game losing streak, especially when they surged out to an early lead. Manny Mojica came out firing, connecting on two early threes to give the Dragons a 13-4 lead just five minutes into the game.
However, in accordance with the old basketball adage, Drexel's vitality due to their long range shooting soon proved to be their demise. Rashann London, inserted into the starting lineup in place of Terrell Allen, struggled mightily shooting the ball, but he was not alone: altogether Drexel failed to score a single field goal in over eight minutes, a stretch in which they saw their nine point lead turn into a nine point deficit.
James Madison dominated the Dragons inside, outscoring Drexel in the paint 38-16. Of course, it never hurts to have a Curry on your team either. The night after NBA standout Steph Curry torched the Washington Wizards for 51 points, the JMU Dukes' Ron Curry put forth an impressive showing of his own. His 16 points included a dazzling sequence late in the first half in which he knocked down a step-back jumper and a difficult, off-balance shot on successive possessions. After their decisive first half run, the Dukes were never seriously challenged in the second half, cruising to an easy 78-56 victory.
A disciplined team should be able to translate the frustration and anger of defeat into motivation. A young team should be able to use its fresh legs to use the grind of the CAA season's short turnarounds to its advantage, starting and ending games stronger than their opponents. A smart team should be able to exploit tendencies of a familiar opponent and capitalize on its weaknesses.
Drexel did absolutely none of these things. Instead, they issued a first half performance that was one of the worst in recent memory. The College of Charleston entered the game on a roll, having won four of their previous five games, and was keen to avenge their Jan. 9 loss to the Dragons. The Cougars played well, but this one was more a story of what the Dragons were unable to do: namely, value the basketball. In an astounding opening 10 minute stretch, Drexel turned the ball over seven times (they finished the game with a cringe-worthy 23 giveaways), and failed to score a single point.
Their lone sign of life came midway through the second half, when a Tavon Allen three, Rashann London jumper, and a Tyshawn Myles layup cut the lead to 15, but the game never seemed to be in doubt. On this afternoon, Drexel simply didn't have the offensive firepower challenge Charleston: the Cougars' Cameron Johnson and Jarrell Brantley scored the same amount of points (27) as the entire Dragons starting five – combined. They cruised to a leisurely 60-38 victory.
So where does this leave Drexel? At 3-20, including 1-11 in CAA play, this season has been a massive disappointment thus far. The university will have some serious decisions to make regarding the future of its program, which, in the absence of a football team, is the de facto face of the Drexel athletics. Currently, that's not a face that's worth looking at. With just 6 games remaining on the schedule, including this week's matchup with a lowly University of Delaware squad, the time for excuses, for hoping for the future, for optimism after "good" losses, is over.
It's just time to win.