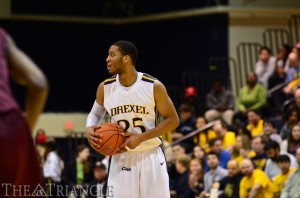 On a campus with no football team, it's never too early to think about hoops.
The Drexel men's basketball season ended just under nine weeks ago, but the past 62 days have been packed with big developments — both positive and negative — for the team.
The first big news of the offseason came April 15, when the team announced in a press release that would-be senior forward Kazembe Abif will miss the entire 2014-15 season, after suffering a right ACL tear in individual workouts the week before.
Last season Abif missed 14 games to injuries, including a concussion and a broken hand. During his 16 healthy games of the year, he averaged 7.2 points and 6.6 rebounds per game, including two double-doubles.
Abif was expected to play a big role in the team's offense this coming season with the loss of three seniors: Frantz Massenat, Chris Fouch and Dartaye Ruffin.
Abif's absence opens up room in the paint for rising sophomore forward Mohamed Bah to step into a starting role alongside rising sophomore Rodney Williams, one of the most formidable young big men in the Colonial Athletic Association. Rodney Williams averaged 5.4 points and 5.0 rebounds in 20.8 minutes per game last season, including 8.9 points and 6.5 rebounds per game in the final eight games of the season.
Yet with the departure of transferring rising sophomore Khris Lane — first reported by The Triangle April 8 — the Dragons were still in need of more depth at all positions.
Head coach James "Bruiser" Flint didn't let those roster spots go vacant for long.
The team picked up a pair of commitments in University of Utah transfer rising sophomore guard Ahmad Fields and incoming freshman forward Austin Williams of Trinity Episcopal High School in Virginia.
Austin Williams will have the more immediate impact, with playing time ready for the taking. A friend of Rodney Williams from Richmond, Va., Austin Williams averaged 12.5 points and 8.7 rebounds per game during his senior season at Trinity Episcopal.
The newest Dragon said having a friend at Drexel played a big role in his decision to come to University City.
"One of the biggest things, I feel, was having Rodney there. I know he's going to look out for me, put me in the best situation," Austin Williams told City of Basketball Love.
"Also, it's a real good academic school. I'm not really sure yet what I want to study in school yet, I know it has a good engineering program too. Bruiser's a good coach, a winning coach. It's not too far but a little distance," he said.
Listed at six feet, eight inches, 220 pounds by Verbal Commits, Austin Williams can compete right away with Bah for playing time, a welcome addition to a frontcourt that as recently as the beginning of last season was viewed as the Dragons' biggest weakness. With the addition of Austin Williams, the Drexel frontcourt has the potential to be one of the strongest in the CAA in the coming years.
A source close to Flint said that the addition of Austin Williams may lead to the school redshirting incoming freshman power forward Tyshawn Miles, but the program dismissed the idea for the time being. If not, the Dragons will have four big men competing for playing time this season, a welcome sight for Flint.
Meanwhile, Fields, a 6-foot-5-inch shooting guard who had narrowed his college search down to Drexel and Utah last summer, averaged 3.3 points and 2.1 rebounds in 7.5 minutes per game with the Utes in 2013-14.
A friend of Drexel junior guard Damion Lee from their days on the DC Assault AAU teams, Fields said he was looking for more playing time than he received out West.
"I think it was more of a learning experience," Fields told City of Basketball Love. "I played, but at the same time I didn't play as much as I wanted to."
Fields will be ineligible to play until the 2015-16 season, when he will be a redshirt sophomore. The Dragons' backcourt this season will feature incoming freshmen Rashann London and Sammy Mojica, rising sophomore Major Canady, and junior guards Tavon Allen and Damion Lee.
They have three more offers open to yet-undecided high school seniors, but as it stands the offseason pickups — and losses — leave the Dragons with a 10-player roster next season, nine if the Dragons decide to redshirt Myles.
The team will look entirely different on the offensive end as the offense loses its top two scorers in Massenat and Fouch, both of whom have signed contracts with agents to continue playing after graduation. Lee and Allen will become the emphasis of the team's guard scoring while Rodney Williams will be called on in a big way in just his second year with the Dragons.
It's impossible to predict what the offense will actually look like come mid-November. Until then, the jumpers and put backs will be purely speculative.