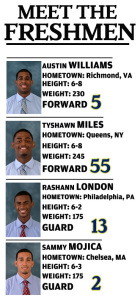 Editor's Note: This is an interview conducted with the four incoming freshmen to the men's basketball team. They are referred to by their initials but in order, they are: Austin Williams, Tyshawn Myles, Rashann London and Sammy Mojica.
The Triangle: What do think your role is going to be on the team?
Austin Williams: To always be ready when my name is called. To make sure I prepare myself for the game, know the plays, listen to what coach tells me before the game. I need to go out there, rebound the ball and play defense and if I get the ball to find the open man or score on my own.
Tyshawn Myles: To come off the bench with a lot of energy. Defensively, come out there and be defensive minded and come out there and get rebounds and whenever I get the ball off the offensive glass, to put it back up and score. Just to be a role player and add on to the team.
Rashann London: Just to come in and contribute in any way and just run the team, play defense and make the right plays.
Sammy Mojica: Come off the bench, be ready to play when my name is called, contribute to the team in any way I can.
TT: Favorite NBA team and player?
AW: My favorite team is the Boston Celtics. My favorite player is probably Lebron [James].
TM: I would have to say my favorite team is the Los Angeles Lakers and favorite player is Kobe Bryant.
RL: Kobe Bryant is my favorite player; the Lakers are my favorite team.
SM: I'm from Boston, so I like the Boston Celtics. Carmelo [Anthony] is my favorite player.
TT: Favorite food?
AW: It could be anything, for real. Chicken, pizza, burgers, fries, all that. American food.
TM: I say the same thing. It could be a number of things; I don't have a particular favorite food. If I had to order in some food, I'd probably choose pizza.
RL: I would have to say steak.
SM: I have to say steak, too.
TT: Favorite musician?
AW: Right now, Drake.
TM: I feel like everyone is going to say Drake right now, but I have to go with Kanye West. I've been a big fan of him since I was younger. I just love the style of his rap.
RL: Right now. Drake.
SM: J. Cole.
TT: Are you ticklish?
AW: Nah. Never been ticklish. I don't do that.
TM: (through laughter) I'm not sure I'm required to answer this question, but I mean, I would just say you have to find the spot I guess.
RL: Yeah, I'm very ticklish.
SM: A little bit, not much.
TT: What's your favorite farm animal?
AW: I don't even know. Maybe a horse I guess? Does that count? [It does.]
TM: I'm going to go with a pig. I feel like they're smart animals.
RL: A goat.
SM: Farm animal? Uh, I'd say, a horse?
TT: Do you consider yourself more of a hunter or a gatherer?
AW: Hunter.
TM: Hunter.
RL: Hunter.
SM: Hunter.
TT: How excited are you for the start of the season?
AW: Very excited. I've been waiting for this for a long time, for the college basketball experience.
TM: Yeah, extremely excited. To put everything you've been working on onto the court in the game, I can't wait to see how incredible the experience will be.
RL: Very excited. It's my first year of college basketball and I grew up watching college basketball, so this is very exciting stepping into something I've always wanted to do.
SM: Same. Just excited for college basketball, always wanted to be a part of it and always wanted to be a part of it with the team and it's just very exciting.