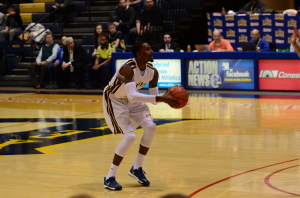 In speaking with the Drexel University men's basketball team, the anticipation is palpable.
The players, many of who have played less than two seasons' worth of college basketball, light up at the mere mention of stepping out onto the court the bright lights of televised play.
The opponent? University of Colorado. In their gym.
Last season, the Buffaloes were nearly unbeatable in that gym. In Boulder, the Pacific-12 contenders started the season winning their first 11 home games, including a close win over a strong University of Kansas team featuring the likes of Joel Embiid and Andrew Wiggins.
In the entire season, Colorado only lost two times at home, once to a strong University of California, Los Angeles, team and then in their final home game to the University of Arizona Wildcats, a team that would reach the Elite Eight.
So, needless to say, it won't be easy.
The Buffaloes have much of their team returning from their previous successful season, with the only notable departure being guard Spencer Dinwiddie, who was selected 38th overall in the 2014 NBA draft by the Detroit Pistons.
While Colorado will surely miss his ability to create and distribute the ball as well as his incredible mustache, they will return four of their top five per-game scorers from last season remaining with another year of experience under their belts.
To add to that, the Dragons have lost much of their offensive firepower from last season, as mainstays Chris Fouch and Frantz Massenat graduated and big man Kazembe Abif and guard Major Canady were lost for the season to injury. Both Abif and Canady were poised to make a huge impact on the team as a whole, in terms of both playmaking and leadership.
Canady, before his injury, spoke to the difference Fouch and Massenat made for the team during his freshman season.
"Last year, I relied on Fouch and Massenat to help guide me in certain situations and bail me out in other situations. It was really nice playing with guys who really knew what they were doing," he said.
Canady was poised to step up and mentor the guards of the future for this team, but unfortunately an ankle injury ended his season before it could even begin.
With Canady out, the focus will be on junior Damion Lee, who last season seemed poised to play out a spectacular follow-up to his freshman season but then was similarly taken down by an anterior cruciate ligament injury that ended his season prematurely.
In the first game, Lee is going to be the player to watch for the Dragons. In his freshman season, he torched the Colonial Athletic Association to the tune of 17.1 points per game on over 40 percent shooting and averaged over five rebounds per game.
Expect him to be a bit rusty, but on a team with only one other experienced offensive threat in Tavon Allen, Lee will be forced to take over if the Dragons want to contend, and he appears to be poised to do so.
For the Buffaloes, Josh Scott is the player to watch. The 6-foot-10-inch forward was an absolute menace in his sophomore season, dominating the boards and scoring over 14 points per game on over 50 percent shooting. Dominant in the post and a looming force in the paint on defense, he can be expected to be the impact player for Colorado, especially with the Dragons' lack of experience down low.
Manning the paint for the Dragons against Scott will be sophomore Rodney Williams, who came on late in the year last season to be a productive counterpart to Dartaye Ruffin and Abif, but is now left on his own to run a young corps of big men.
The challenge is tremendous, but Williams may just be ready to make the leap and continue his stellar second half of the 2013-2014 campaign coming into this season.
If he can make an impact and freshmen Austin Williams and Tyshawn Myles can step up into the vacancies left by graduation and injury, this team could make some noise in the CAA.
But that all starts Nov. 14. Getting a victory on the road against a talented team like Colorado is invaluable in terms of team chemistry and confidence and could set the team on the right track to competing.
Tune in on the Pac-12 Network Nov. 14 at 8 p.m. to get your first look at the retooled Dragons in action.