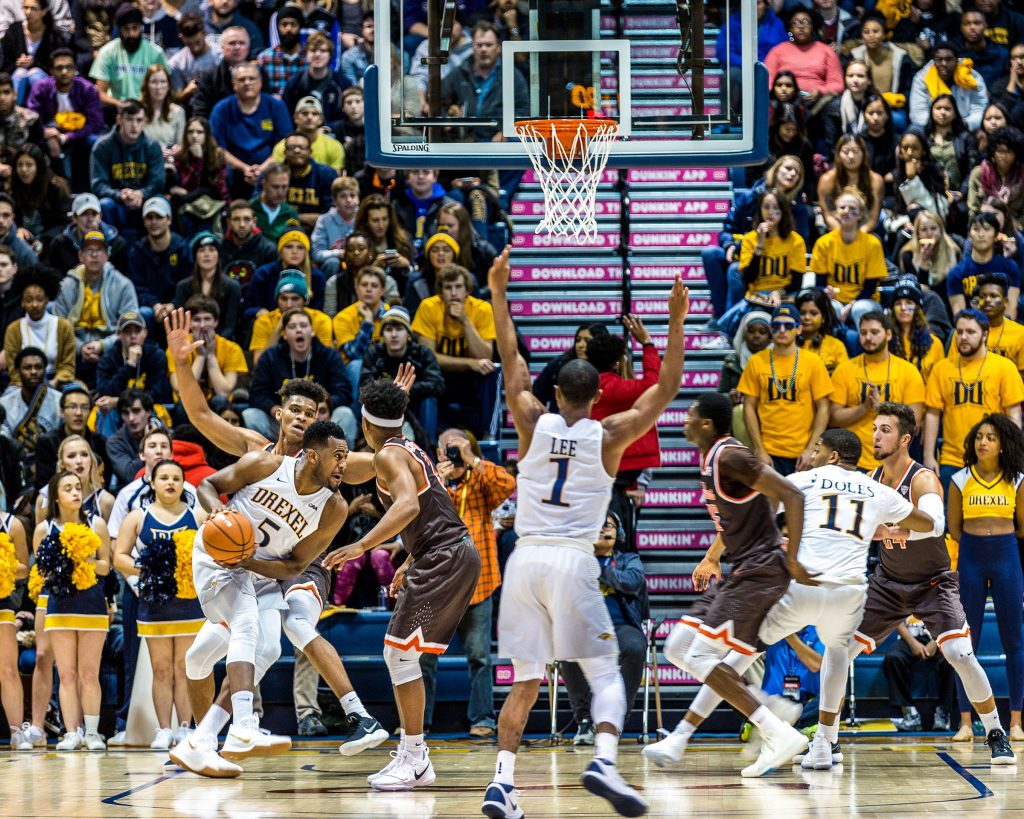 The Drexel University men's basketball team opened up their season at home against the Bowling Green College Falcons Nov. 11. According to drexeldragons.com, the game drew 2,504 people . The team definitely fed off the crowd in the first half because they led 42-32 at halftime.
Despite the strong start, the Dragons ended up falling to Bowling Green 78-69, thanks to a second half in which Bowling Green outscored Drexel 46-27. Bowling Green's dramatic turnaround was led by redshirt freshman Justin Turner's 19 points in the second half. Turner ended up finishing with 33 points, seven assists and four rebounds.
Although the Dragons lost, there were strong outings from seniors Sammy Mojica, tallying 17 points and seven rebounds, and Austin Williams, who had 18 points and 12 rebounds. The Dragons struggled mightily at the three-point line shooting 20 percent and they also committed a whopping 19 turnovers. However, Drexel did manage to out-rebound Bowling Green 35 to 33. Kurk Lee struggled in the game shooting 3-14 and committing six turnovers.
The Drexel Dragons got their first win of the season on Nov. 13 as they defeated Arcadia University (Division III) 95-81. Drexel was led by junior Tramaine Isabell who electrified the crowd with his acrobatic plays when driving to the basket as he went on to score 22 points along with six rebounds and five assists.
Isabell wasn't the only dragon who stood out on Tuesday night. Troy Harper, the transfer from Campbell University, scored 15 of his 17 points in the first half including scoring Drexel's first five points, which got the crowd going. Kurk Lee had a bounce back game as he scored 14 points, four assists, and three rebounds. Philadelphia native Da'Kquan Davis led Arcadia in scoring as he scored 18 points off the bench to go with four rebounds and two assists.
The Dragons drastically improved their three point shooting as they shot forty two percent as a team compared to the twenty percent they shot against Bowling Green. The Dragons continued their high frequency of turnovers as they turned the ball over 16 times.
While freshman Jarvis Doles' numbers didn't stand out, his presence was felt. Late in the second half, Kurk Lee was fouled by an Arcadia player, and right after, Doles went over to the player to let him know that he wasn't pleased with how he treated his point guard. It's that kind of toughness right there that Drexel needs so that they have each others' backs and play as a team.
The Dragons will travel to Lynchburg, Virginia to compete in the Paradise Jam tournament where they will first face the University of Houston Nov. 17. The weekend will then continue Nov. 18-19 where the Dragons hope to put forward an aggressive strike and finish strong against some highly competitive teams such as Quinnipiac University who they will play later this season.