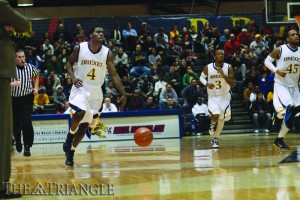 The Drexel men's basketball team will begin its 2011-12 season Nov. 15 in Lawrenceville, N.J. After that quick stop the Dragons will hop on a plane and make their way to the Virgin Islands for the Paradise Jam, where they will face Norfolk State University, either Texas Christian University or the University of Virginia, and a team to be named later. Other teams participating in the invitational tournament are Marquette University, the University of Mississippi, Drake University and Winthrop University.
"It's a good tournament. I mean we went to Turkey last year, so…" head coach James "Bruiser" Flint said. "What it is [that] you just want to be in a good tournament. I know everybody's excited that you're going to the Virgin Islands, but a lot of times when you go on these trips you don't do much but play. You're not sightseeing and doing things like that.
"When we went to Turkey that was different. We saw sights; we did everything. It's a good tournament. We're looking forward to good competition, and we hope we can win it and I think that's more of our focus than anything else."
Once the Dragons return and grab a quick few days of rest, they jump back into action on the road, albeit not very far from home when they travel to St. Joseph's University Nov. 30 — the Dragons defeated the Hawks at home 62-50 last season — and Colonial Athletic Association rival Delaware Dec. 2 in Newark, Del.
"It's a big game because it's Delaware and I think the Delaware-Drexel game, that's our rivals so it's a big game anyway," Flint said. "No matter how bad the teams are or how good they are, it's going to be a tough one."
After their matchup with the Blue Hens, the Dragons have six consecutive non-conference games before jumping back into the CAA for the rest of the regular season, with the exception of the ESPN BracketBusters matchup against a team yet to be chosen. Drexel defeated Kent State 73-66 at the DAC Feb. 18 in a game televised on ESPNU.
The out-of-conference games in between Delaware and the rest of the CAA are highlighted by a home game against Princeton Dec. 10. The Tigers will pose a large challenge to the Dragons after coming off a successful season in which they made it all the way to the second round of the NCAA Tournament before losing to Kentucky 59-57 on a last-second layup by Wildcats guard Brandon Knight.
"Princeton is Princeton. They play that style that's really tough, and they return four starters," Flint said. "It's going to be a tough game, a tough schedule. We knew that we had to challenge ourselves with our schedule a little bit. We get [Princeton] to come here, so that was one of the things too, we really needed a home game. I was sitting next to [Princeton Head Coach Mitch Henderson] on the plane and he said, 'Look, we need some games too,' and I said, 'Alright, let's play each other,' and that's how we got the game actually."
The Dragons now have the scheduling advantage of playing nationally recognized teams due to last year's postseason success, as the CAA had a record three teams in the tournament last March in George Mason, Old Dominion and Virginia Commonwealth. The Rams made it all the way to the Final Four and finished as the No. 6 ranked program in the nation according to the final USA Today/ESPN Coaches' Poll rankings. The Patriots and Monarchs also received votes toward the top 25. That will have to count because the Dragons we unable to get any other out-of-conference opponents, specifically to play them at the DAC.
"It's always hard for mid-majors to get games, especially when people think that you've got a chance to beat them," Flint said. "We actually just finished our schedule a few weeks ago. Why? Because we couldn't find anybody, not only that would play us, but we were trying to find a home game and we couldn't find anybody that would play us at home. Plus we've been getting a lot of publicity this summer because everybody thinks, 'Man, they've got a chance to be pretty good.' So people don't want to play those games."
The Dragons will be looking to continue on their success from last season, when they finished 21-10 overall and 11-7 in the CAA, where they narrowly missed postseason play.
"We were disappointed that we didn't get picked for any tournament," Flint said. "I thought we should have been in the NIT — we were the highest team RPI-wise to never play in the postseason last year. I was happy for VCU because that lets people know that our conference is good. It was the first time we ever had three teams in the NCAA Tournament. It just goes to show how tough our conference is."
Also, with just one starter not returning from last season in Gerald Colds, the team that just missed out on topping VCU in the CAA Tournament when the Rams edged the Dragons by two, 62-60 with a late layup, will be looking to make that final step and qualify for March Madness for the first time since 1996 when Malik Rose walked the campus of Drexel University.
Chris Fouch
Drexel all-CAA performer junior guard Chris Fouch will be out due to offseason knee surgery at least until CAA play begins, after the St. Francis (Pa.) game Dec. 31. Fouch led the Dragons in scoring last season with 14.9 points per game coming off the bench.
Flint was able to comment on the status of his star sixth man.
"I just know he's out," he said. "When the doctors clear him to play, then they clear him to play. Right now I just got to worry about the other guys. He'll be back, he'll be fine."