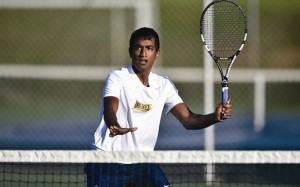 The Drexel University tennis team had match filled weekend that started Feb. 12, with both the men's and women's and teams playing in Connecticut against Fairfield University.
Drexel's men's tennis team improved their overall record to 5-1, with a 5-2 win over the Stags.
The men's doubles teams won the top two spots to take the points for doubles. Sophomore Balaji Lakshmanan triumphed in his singles match with a winning score of 6-4, 6-2 and winning score in doubles of 6-2 playing along with sophomore Hamza Laalej. Laalej won his singles match with a 6-2, 6-2 win in the fourth spot.
Xabier Saavedra and Andrew Sinai lost in their singles matches with freshmen Sinai, taking it a tough 3 sets. With losing in a bagel in the third set, the score came out to be 7-5, 2-6, 6-0.
Sinan Orhon and Kashyap Ashok brought the last two points for the singles matches with a winning score of 6-4, 5-7, 10-6 for Orhon who fought it out in a third set tiebreaker and a winning score of 6-3 and 6-1 for Ashok. Both paired up and played the second doubles spot winning the match 6-3.
The last duo for the men's doubles teams, Saavedra and Sinai lost in a tie breaker for a score of 7-6 (4).
With the win on the men's side, things looked exceptionally bright for the Lady Dragons as they prepared to face Fairfield. They took the overall match with a score of 6-0. The ladies also improved their overall record to 5-1, the same record held by the men's team.
The women did not drop one set the whole match, with Ryshena Providence winning with a score of 6-0, 6-0.
Honami Yawaza won her match with an impressive score of 6-1 and 6-4, improving her record to 12-5. Clary Rodriguez Cruz and Kendra Bunch won their singles matches, 6-1 and 6-3.
Erin Bowsher and won her match 6-2, 6-2 at the No.3 three singles spot, and Lea Winkler triumphed with a score of 6-1 and 6-2.
The Dragons did exceptionally well and left the courts feeling proud.
Friday was a great day for the men's and women's tennis team and that momentum carried into the next match against Sacred Heart University on Saturday, Feb. 13.
The men won by a close score of 4-3, and the women, playing exceptionally well, again won with a score of 7-0. With the wins, both the men's and women's teams improved their overall records to 6-1.
With singles wins at numbers 2, 3, 4 and 5, there were no wins for the men at doubles. Saavedra, losing in the last match too, went to distance with three sets, giving the Pioneer a tough fight, but dropping the close match 4-6, 6-3 and 7-5. Sinai, playing at the No.2 spot, won his match 6-2 and 6-2. Lakshmanan ended up on the winning side with a 3 set win, 6-4, 4-6, 7-6 (3). Orhon also took his match to a three setter and won, 4-6, 6-1 and 6-4. Laalej won his match 6-2, 6-4 at the No.4 doubles spot. Ashok, playing the sixth singles spot, lost his match in a second set tiebreak; 6-2 and 7-4. There were no doubles wins from the men's side, with Laalej and Lakshmanan at No.1 losing 6-4, Orhon and Ashok falling 6-2 at the number 2 spot, and Sinai and Subotic losing 6-3 at spot No.3.
Nonetheless, the men's tennis team came out on top and won.
The women's tennis team was on an immense roll this weekend, with winning all the matches against Sacred Heart University. They won every singles and doubles match, with none of them going to a three-set match.
Yawaza and Cruz won their doubles match, 6-1, and their singles matches with Cruz winning 6-2, 6-3, and junior Yawaza winning 6-1, 6-3 at the number one singles spot. Bowsher and Bunch paired up to play the No.2 doubles spots winning 6-4. At the No.3 doubles spot, Bowsher and Providence won with the same score: 6-4. Both of them also winning at their singles matches, 6-2, 6-3 for Bowsher and a bagel in the first set, and 6-1 in the second set for Providence.
The Dragons did exceptionally well this weekend. The men's and the women's tennis team will be traveling to Villanova University Feb. 19. The men's also have a match against Monmouth University Feb. 24.