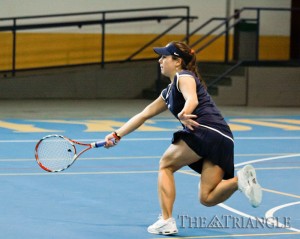 The Drexel University men's and women's tennis teams came into the weekend having played exceptionally well, and they continued their streak of great play at the Hampton Roads Invitational Oct. 5 -7.
On the women's side, Zeynep Mafa advanced to the semifinals in Flight One, and Emma Brook advanced to the semifinals in Flight Two. The men's team also played very well, especially in doubles. Jeganathan Srinivasan and Dan Hansen won Doubles Flight Two, Badr Ouabdelmoumen and Skyler Davis placed second in Flight One, and Alex Fioravante and Tyler Pultro placed third in Flight One.
"Sri and Hansen have played extremely well," head coach Mehdi Rhazali said. "They are 8-1 in doubles and the only team they lost to this season was [the University of] Minnesota 9-7, and Minnesota is ranked 36th in the country."
With such young teams on both the men and women's sides, it is impressive that both teams are playing well and proving themselves on the courts.
"If we keep up what we are doing and stay focused, my expectations are high," Rhazali said. "We have a scrimmage with Temple [University], which will give us more match experience. We will be ready for Rider [University] and for every match. My expectation is to win the Rider match and to win all the matches against Rider for both men's and women's teams. We don't care who are we playing against; we care about playing our best, playing from our hearts and fighting for each point as a team."
Rhazali is very confident in his team heading into the Rider match. The teams are playing well and even though the team is young, the upperclassmen have been very supportive and great leaders. With that being said, the team has proven that it can play at a very high level. By constantly gaining experience, this team will continue to do well in seasons to come. As for their recent victories, the Drexel fan base can only cheer them on and hope they continue their sensational play.